Kathy

and Jean

go to
70 Garage Sales in One Day!

Hebron (where Jean lives) had its city-wide garage
sale on July 31, 2004 and Kathy and Jean participated fully!

We headed out at about 8:15. We took Jean's Blazer: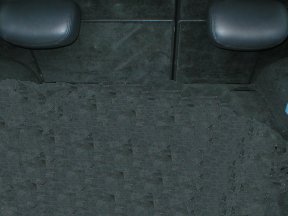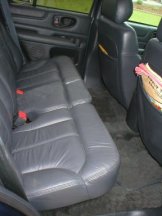 Look, Jean, I cloned out that bleach spill in your Blazer!

After a couple of hours, we headed back to Jean and Jeff's to drop off a load of stuff we bought: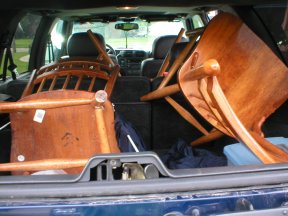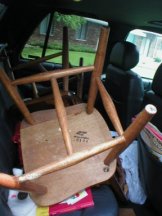 And we headed right out again. I had a hot dog

for lunch that I bought in a Church parking lot that Jean made me eat in the car! It was actually very good....grilled outside and fresh chopped onions available! At one garage sale, I bought Murphy a little cat bed/toy. He really liked it: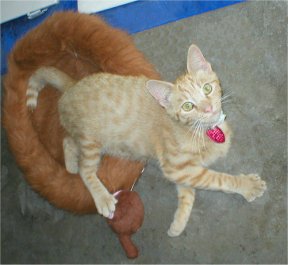 The town was insane! The traffic was incredible! Swarms and swarms of
people and cars greeted us all day! I need to use more exclamation points!!!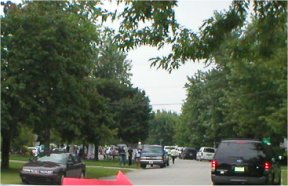 Jean also ate her lunch in the car....a steak sandwich bought at a booth outside the Grocer's!

We bought some more stuff: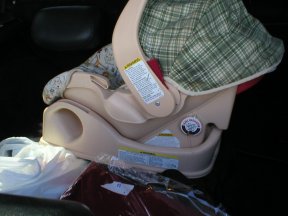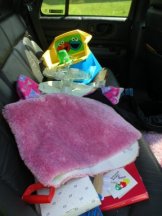 Much later in the day, we returned to find Murphy still in his new bed: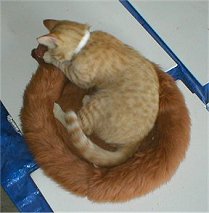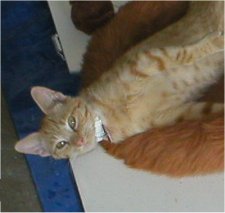 Look, Murphy's smiling!

We finally called it quits at 3:30. We were pretty worn out by then.
We got some good bargains and plan to make this trip an annual event!
Plan to join us next year. You'll love it!

Email Kathy Ward Email Jean Lahm

Return to Kathy's Home Page