Camping at the Indiana Dunes

June 2009

Featuring Grandma Kathy

Jean and Laura

Alex, Hannah, Daphne, Erin, Brendan and Owen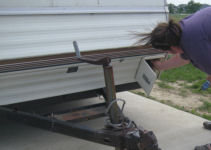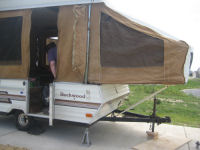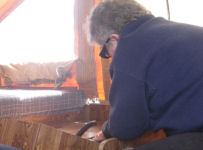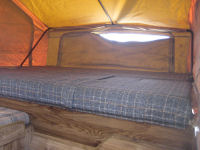 Loading the camper at Jean's....and removing the sink we never use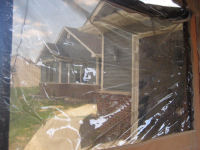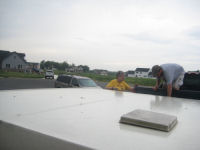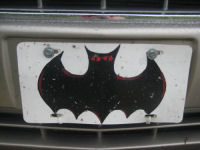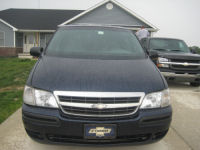 View of the Lahm Home from inside the camper...Kathy and Jeff...The front plate of the Bat Van...Rain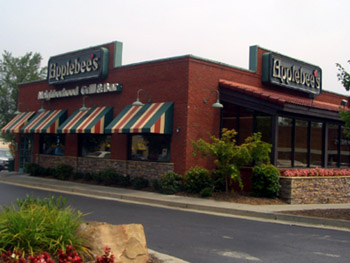 We stopped at Applebees for a nice leisurely lunch in the rain. It was very nice.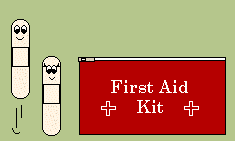 Jean became a Camp Doctor when Hannah discovered a tick on her head.
Jean removed it. The next day she tended Erin's skinned knee.
Erin was really happy to learn Aunt Jeannie was a Camp Doctor.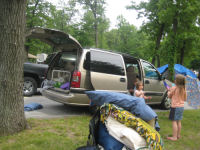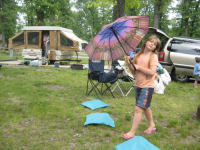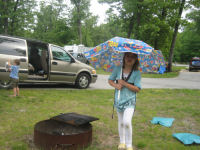 The rain stopped. We unloaded the bat van.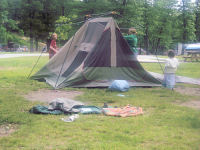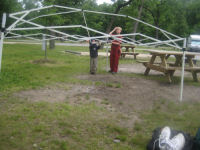 Setting up Laura's tent and the canopy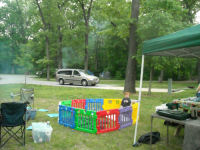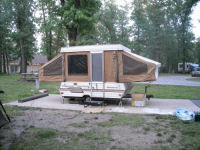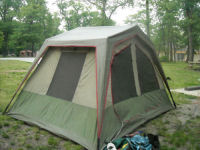 All set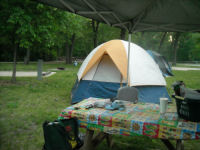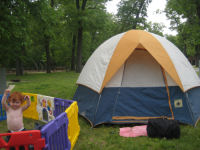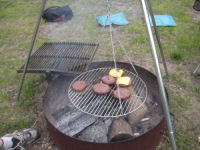 Owen liked his playground. We had hamburgers for dinner



At The Playground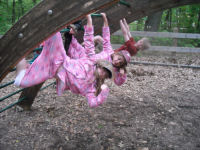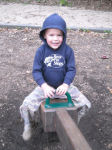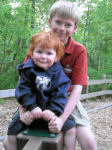 Hannah and Daphne wore matching pajamas....Brendan and Owen wore matching sweatshirts...But Brendan's was too small and Owen's was too big....hmmm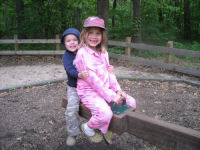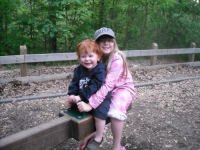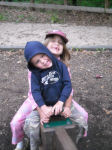 Brendan and Daphne....Owen and Hannah...Daphne and Brendan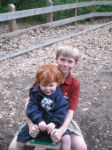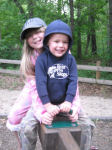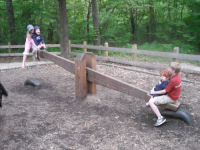 Alex and Owen...Hannah and Brendan on the tetter-totter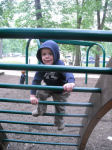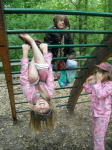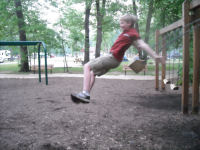 Brendan...Hannah, Erin and Daphne...Alex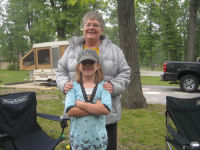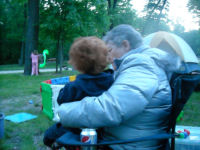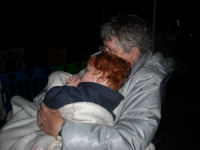 Kathy and Daphne...Owen and Kathy (Daphne with a light stick in the background)...Owen and Kathy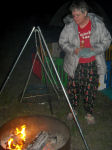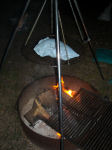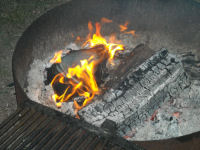 Kathy put a warmie (a cloth bag of rice) on the grill to heat up.
It fell.
Jean and Laura laughed way too much about it.



Monday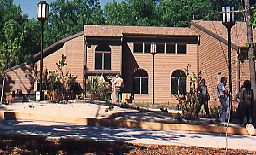 The Nature Center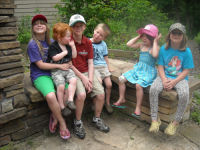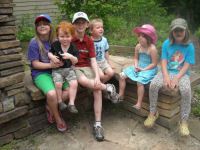 Casual poses. Owen is flashing his gang sign in the second picture.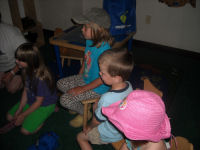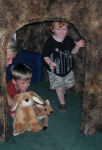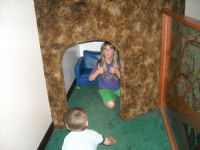 Jean, Hannah, Daphne, Brendan and Erin watch a puppet show.
Put on by Laura, Alex and Owen
Brendan and Hannah check out the second floor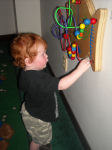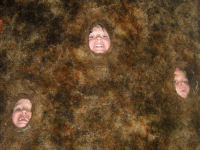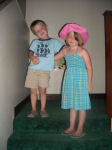 Owen...Daphne, Hannah and Erin...Brendan and Erin



At The Beach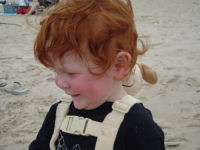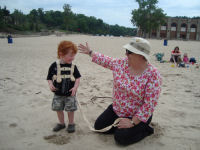 Owen happy in his harness...Owen and Kathy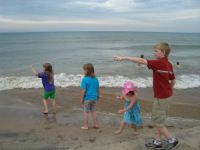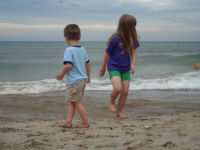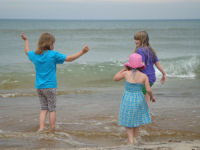 Wow, look at the waves..."Why yes, you can get your feet wet. But that's all because the water is very cold"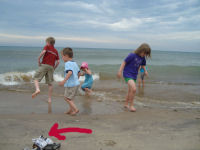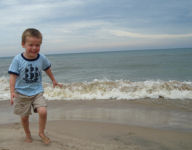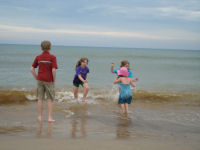 The last time we saw Alex's socks. They got washed away but we saved his shoes!
Brendan running for joy.
Getting wetter.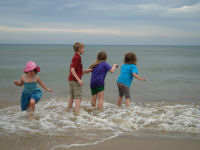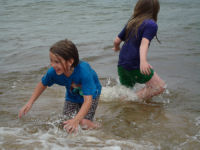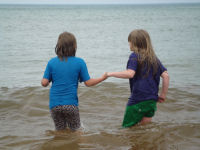 Oops...too wet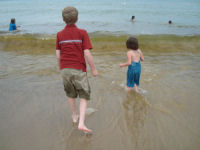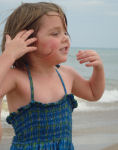 Time to head back to the campground for dry clothes



On The Dunes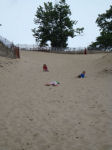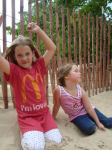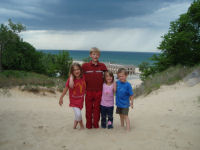 Kathy and Owen took a nap while everyone else hiked the dunes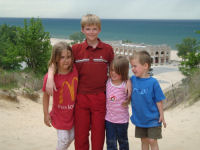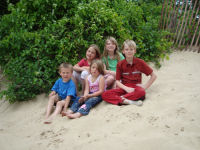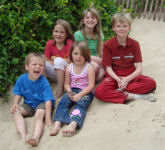 Sandy poses



Back At The Campground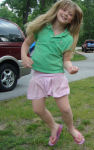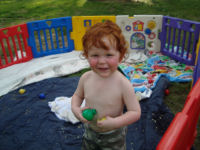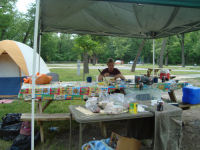 Hannah...Owen...Laura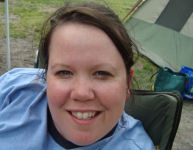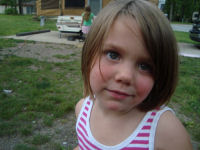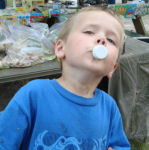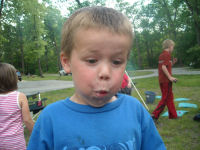 Jean...Erin...Brendan with a marshmellow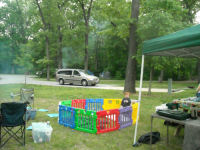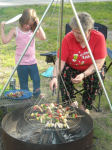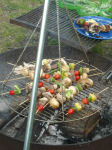 Owen...cooking shish-k-bobs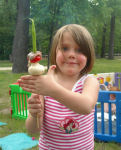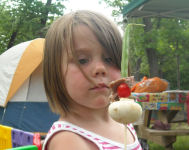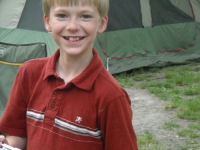 It was easy to tell Erin's shish-k-bobs from the others because she made all of hers into little ballerinas...Alex



Jiffy Pop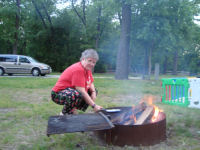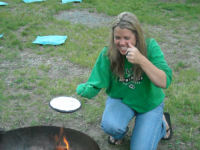 We took turns with the Jiffy Pop until Laura claimed she was in charge...she finished the shaking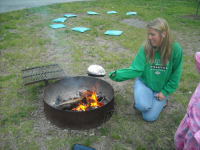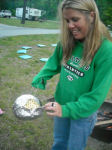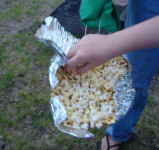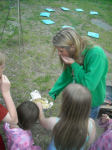 Digging in



The Obstacle Course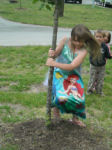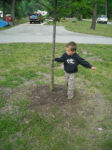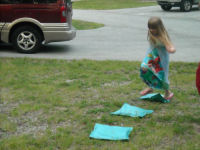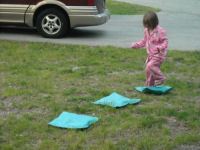 Spinning around a tree...running across the sit-upons that Hannah and Kathy made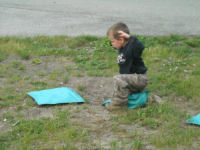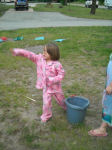 Throwing balls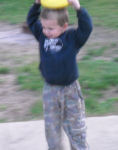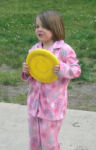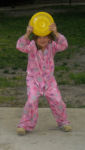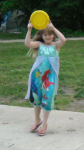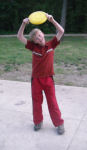 Each participant ended with the dance and chant: Rule Number 1, Laura's In Charge. This was first performed by Laura last Christmas.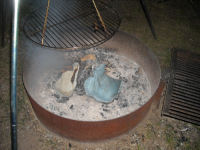 The second night, Kathy burned two warmies. This led to more excessive laughing from Jean and Laura.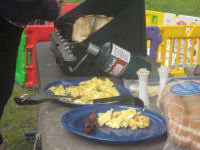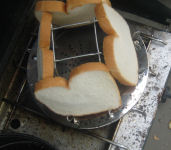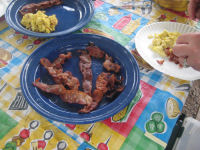 Breakfast. Featuring Jean's fancy new toaster.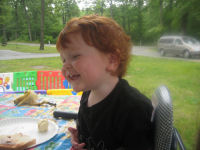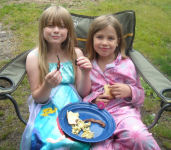 Enjoying breakfast



Three Mile Nature Walk

Jean and her boys and Laura and her girls headed home. Kathy, Alex and Hannah went on a three mile hike. This was a reward for Alex and Hannah for helping so much loading the vans and truck for the trip home. Alex and Hannah took tons of pictures. These are my favorites:



Alex's Pictures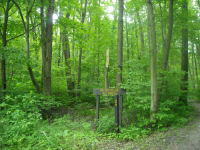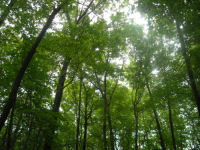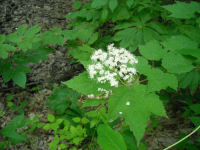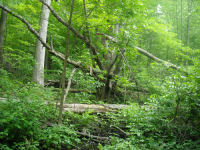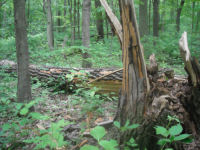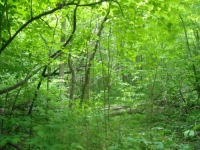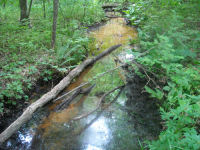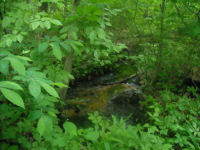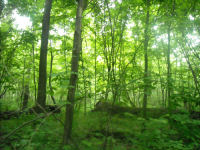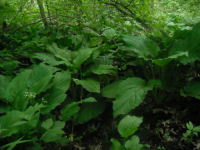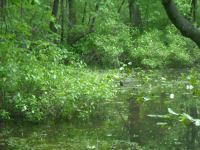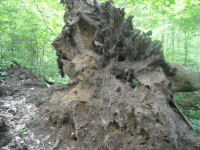 Notice the monster in the last picture. It is facing left.

Hannah's Pictures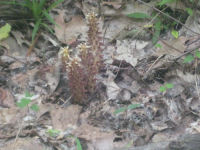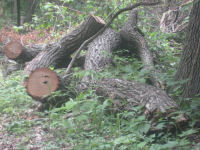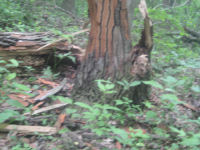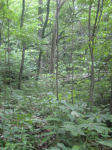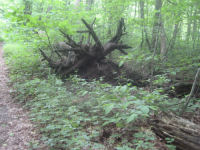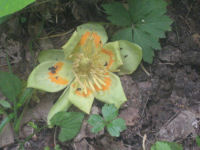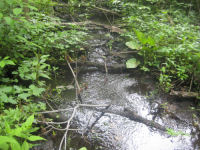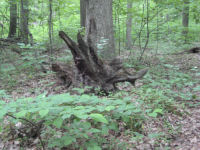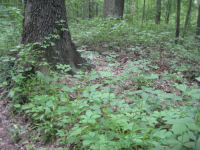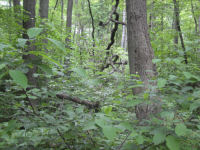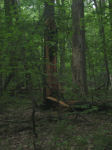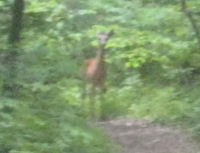 Notice the deer in the last picture. It was checking us out



The McFlurry Incident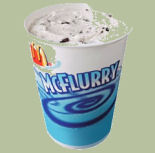 I told Alex and Hannah that we were going to stop at McDonald's for lunch. They asked if they could have an Oreo McFlurry. I said, "Sure" Then they asked if they had to share one. I said, "No way! After seeing you two fight over every little thing, I will NOT sit and watch you share a McFlurry! You each get your own." Hannah replied, "At least our fighting is good for something!"



Return to Kathy's Home Page Email Kathy