Christmas 2014

Christmas Eve at Jim's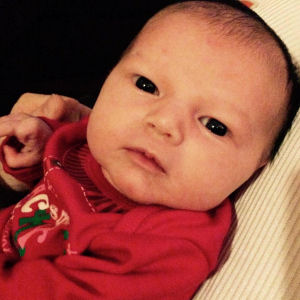 We Welcome four day old Layla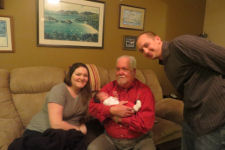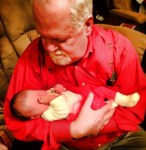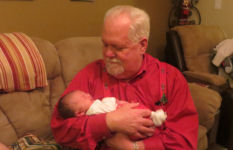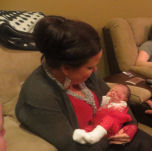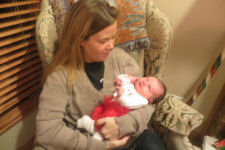 Mommy, Grandpa Pat and Daddy....Grandpa Pat....Cousin Jean....Cousin Laura

The Gingerbread House Contest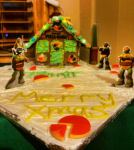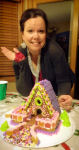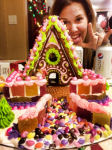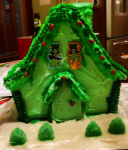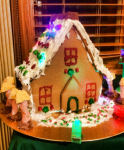 Michael's Ninja Turtles....Jean with her purple creation....Laura with Jean's....Pat's Irish One....
and Kathy's amazing house with real lights, flood lights and eight leg lamps!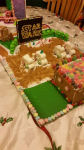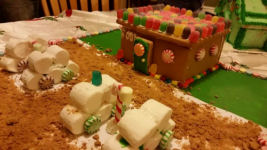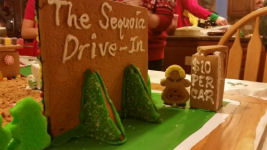 The Sequoia Inn presented this drive-in playing Star Wars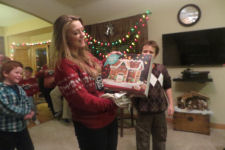 Hannah shows the prize for winning the contest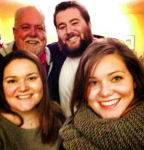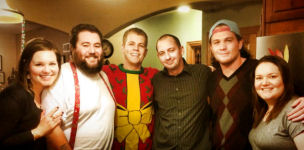 Pat, Brian, Bridget and Alissa....Alissa, Brian, Sean, Darren, Michael and Bridget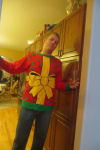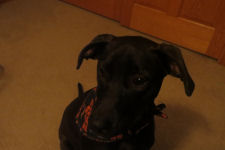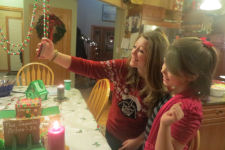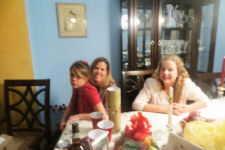 Sean....Leia....Hannah and Erin taking a selfie....Erin, Laura and Daphne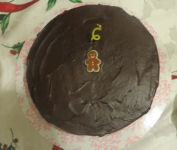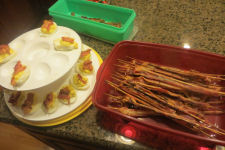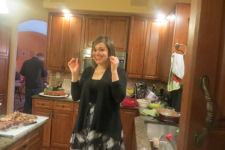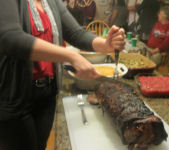 Cake....Kathy's deviled eggs with bacon and her bacon dribbled with chocolate....Alissa enjoying the bacon....Jean slicing the prime rib from Jim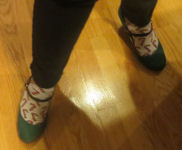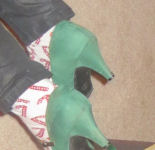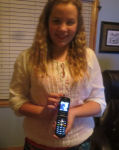 Jean's festive shoes.....a new idea starts....taking pictures of cell phones over the ages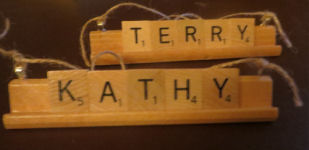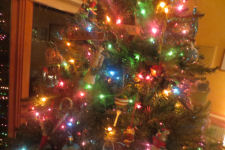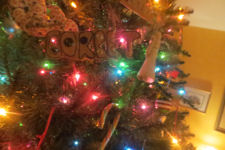 Kathy's gift this year: Scrabble name ornaments....Close-up of Jim's tree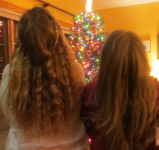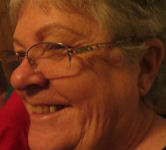 Daphne and Hannah compare their hair length....Kathy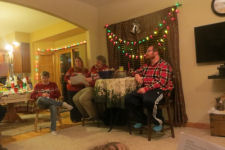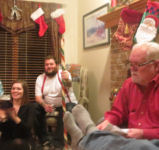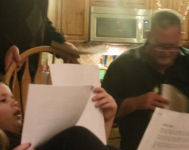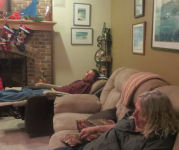 Great time singing Christmas carols.....Jeff and Terry grab a quick nap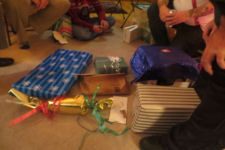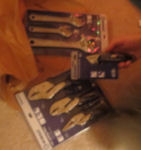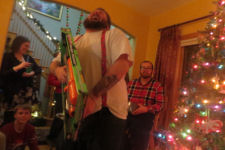 We had grab bags for the adults and had a lot of fun

Ward's Christmas on New Year's Day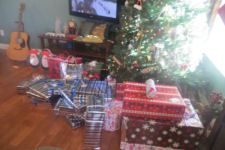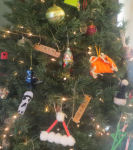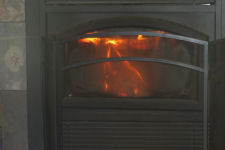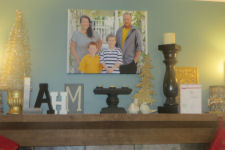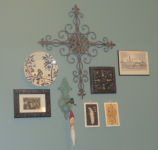 Presents......Some of the Lahm's lovely Christmas Decorations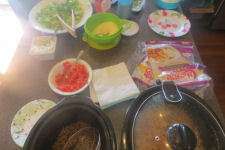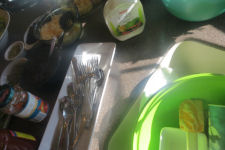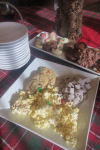 Fun food....Food Jean received as gifts for being a Sunday School Teacher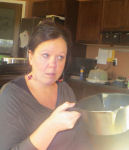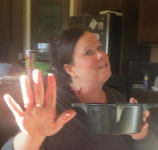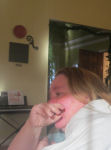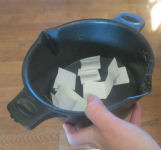 We thought we might like to change the way we do the annual family auction.
We couldn't just discuss it like normal people.
We had to write our suggestions down and Jean put them in a special pot.
Some of the suggestions were a little rude.
Yes, we laughed until we cried.
We had the auction the way we always had it....with Monopoly money and bidding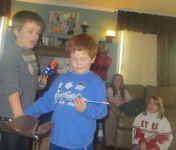 Opening gifts.....Owen checking out his first of the many "Pencils of the Month" he will received from Aunt Becky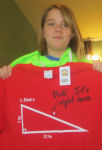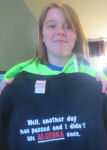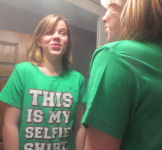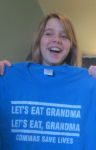 Before Christmas, I told Daphne and Erin to get on the computer and pick out gifts for Grandpa Terry and me to get them.
I told them if they didn't do it, I would buy them clothes for Christmas.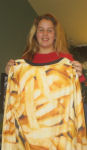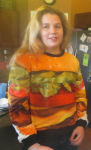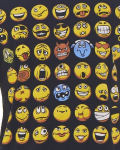 They both picked out clothes....Cracked me up!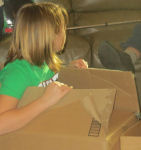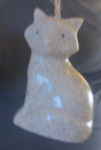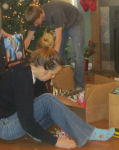 Erin in a box....An ornament I bought for the girls (I think it's a cat..others think it is a fox)....Alex and Laura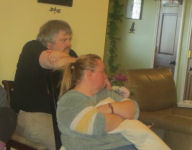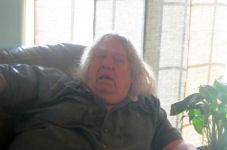 Bill and Becky....One of the Birthday Boys (we celebrated Brendan's birthday later in the year)....Some of Terry's gifts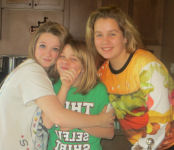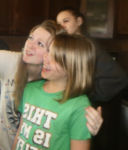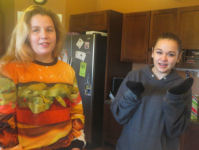 Hannah, Erin and Daphne....Hannah's friend Brianna watches Hannah and Erin take a selfie....Daphne and Brianna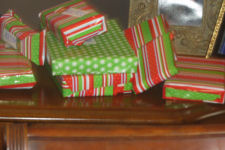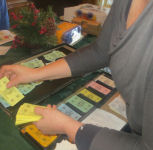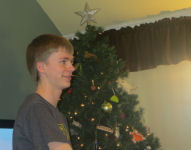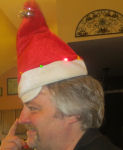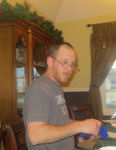 The auction gifts....the money....Alex runs the auction....Bill...Jeff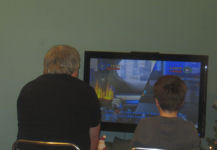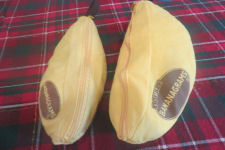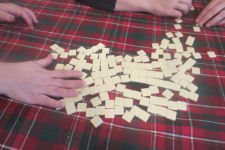 Bill and Brendan playing a game....We were going to play double bananagrams until we realized it would be difficult to sort the tiles to put back....We played a regular game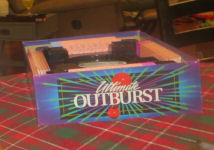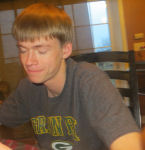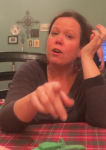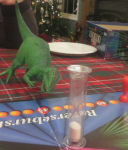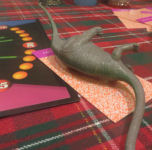 It started out as a regular Outburst game.
Then Jean incorporated toy dinosaurs into the game.
You could use a dinosaur to put on a card that you didn't want to answer in the game.
I know.

Email Kathy

Return to Kathy's Page