Christmas 2018

Party One

Grandma Kathy, Bill, Becky, Alex and Hannah

Chinese Dinner For Christmas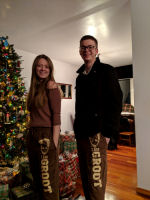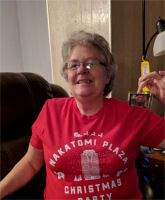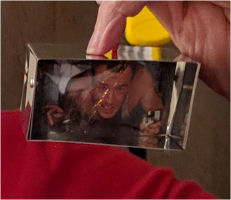 The lovely shark bowl everyone got....Funny Groot pants....Kathy with John McCain crawling through a heat duct Becky made from sheet metal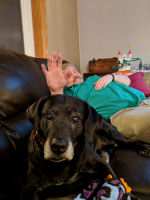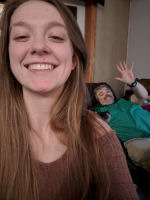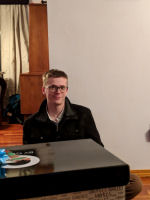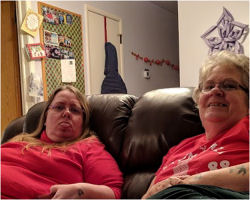 Bill waving behind Sadie....Bill waving behind Hannah....Alex....Becky and Kathy


Party Two

Grandma Kathy, Jeff, Jean, Brendan, Owen, Daphne and Erin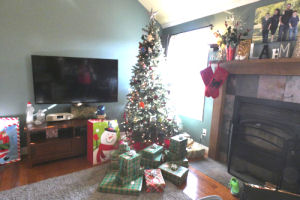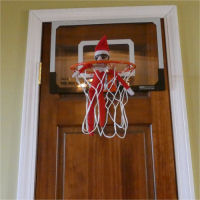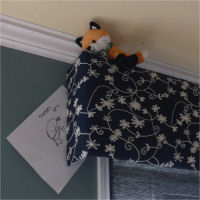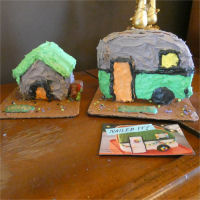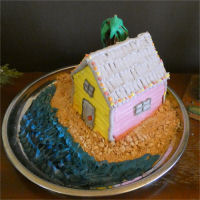 Pretty tree with gifts....Elf....Elf's Fox....Kathy's Gingerbread House....Jean's Gingerbread House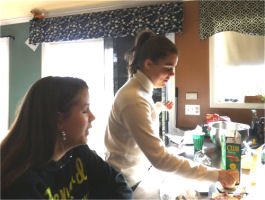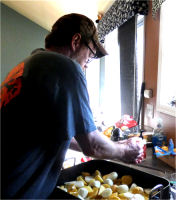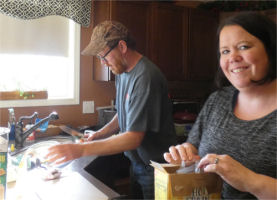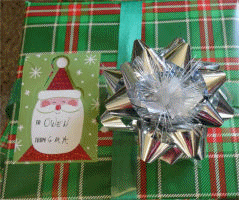 Daphne, Erin, Jeff and Jean getting some of the food ready....Most of the gifts had blinking bows



Party Three

Everyone in Party Two Plus:

Pat, Brian, Bridget, Darren, Layla and Odin

Jim, Sean, Kyle and Michael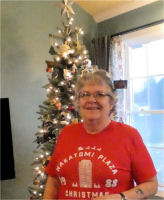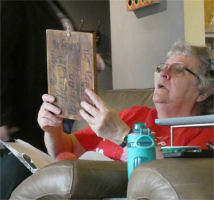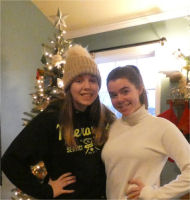 Kathy using her John McCain ornament as a fascinator....Kathy with great gifts from Daphne and Erin....Daphne and Erin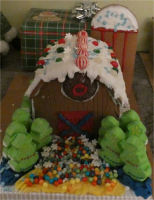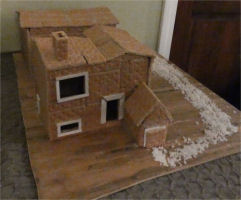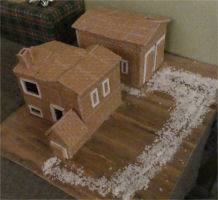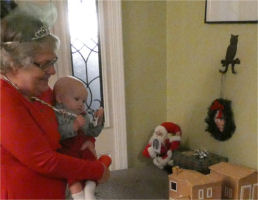 Jim, Sean, Kyle and Michael's barn....Pat's recreation of MY house and big garage!....Odin approves of Grandpa Pat's creation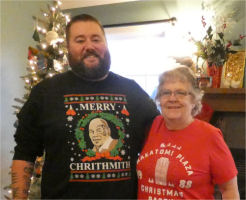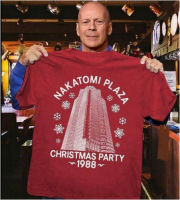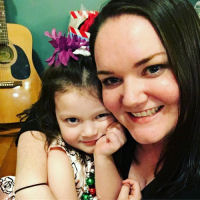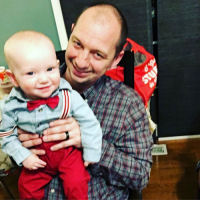 Brian and I had a shirt-off....I'm sorry he won....At least this year....Bruce Willis holding my shirt....Layla and Bridget....Odin and Darren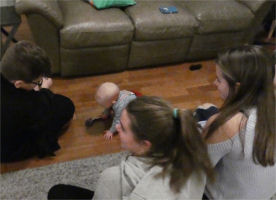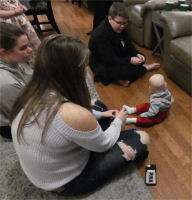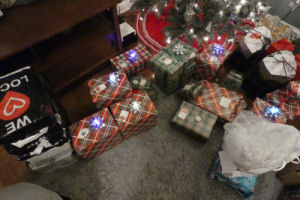 This was strange to me....The older kids sat around Odin and watched him play for quite a while. Erin took pictures of Odin.
Owen opted out early to play with his trains and Layla really wasn't that interested in watching Odin play. Fun times!
Lots of gifts under the tree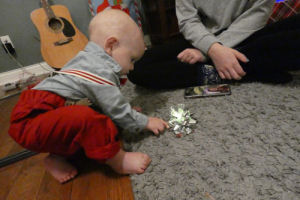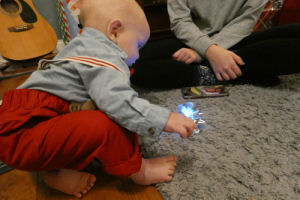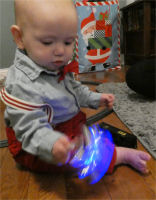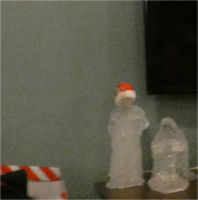 Still watching Odin as he plays with a bow....Who put a Santa hat on Joseph?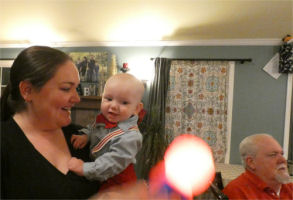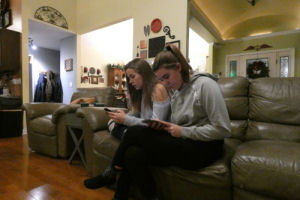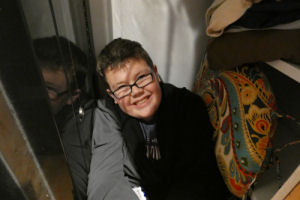 Bridget, Odin and Grandpa Pat....Teenage girls....Teenage boy on the floor in the new closet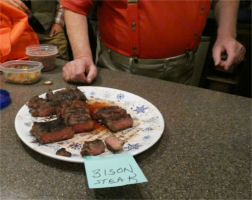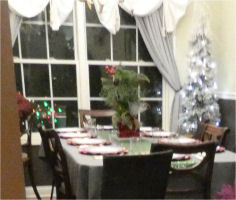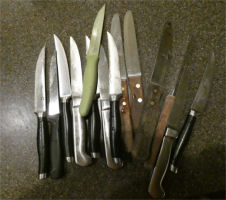 Dinner was great! Pat brought bison. Jeff cooked roast and steak on the grill.....Perfect. And wonderful side dishes.
Then Jean reallized she didn't have enough steak knives for everyone so Brendan had to go to several neighborhood homes to borrow some!
No more pictures of dinner because we were busy eating and conversing.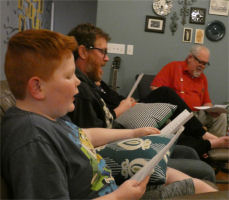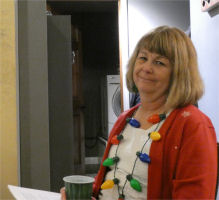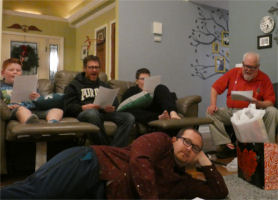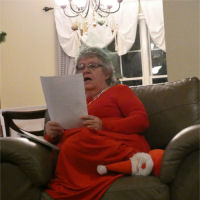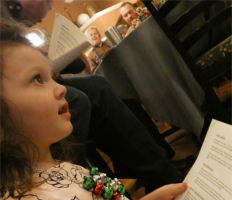 Time to sing!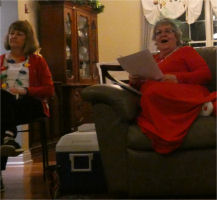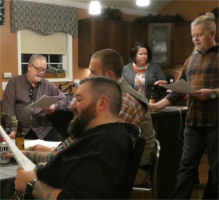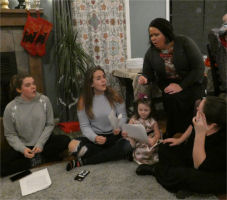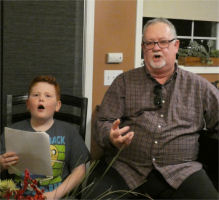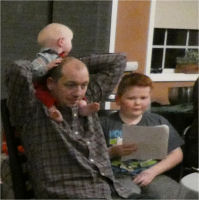 Featuring Four Calling Birds and Owen and Jim singing Five Gold Rings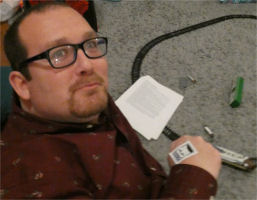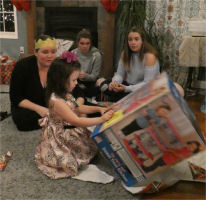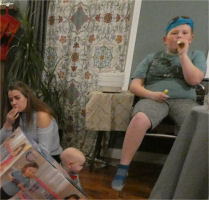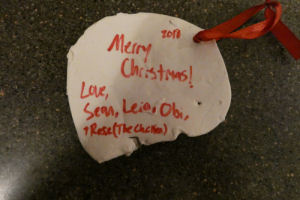 Kyle with a tatto....Layla opening her kitchen....Odin and Owen are not interested in that girly stuff....An ornament from Sean and Rose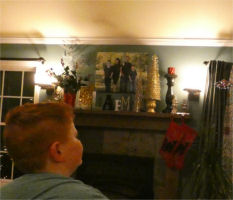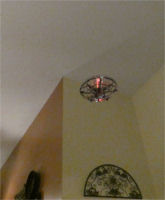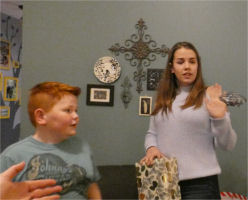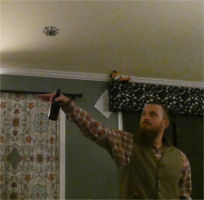 Owen got "The Best Gift Ever" from Pat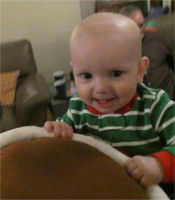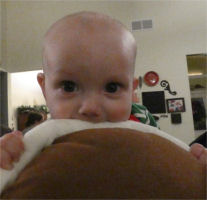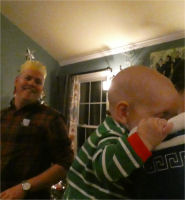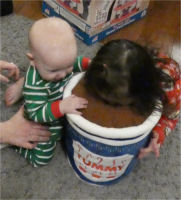 I ordered a stuffed, fluffy coffee cup and I thought it was coffee cup size. It wasn't....sigh. Much laughter and Odin liked it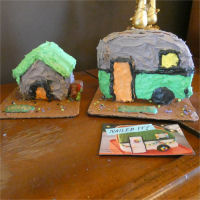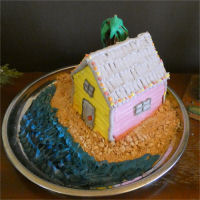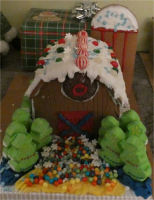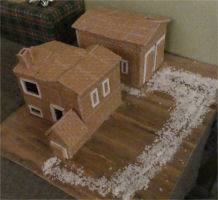 A neighbor choose the winner of the Gingerbread House contest. She accidently choose Jean
when we all know Pat was the real winner with the depiction of my house and big garage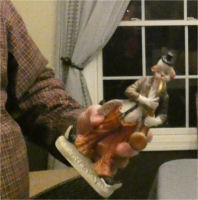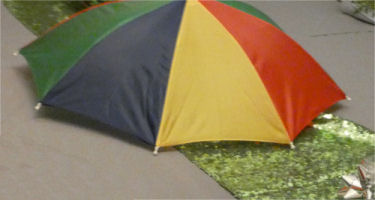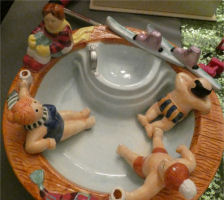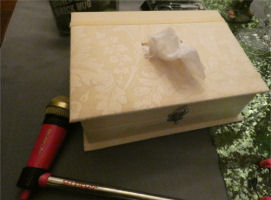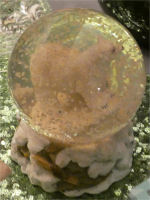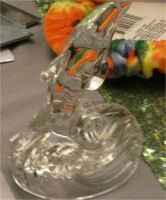 I brought prizes for games but we ran out of time so we had a drawing instead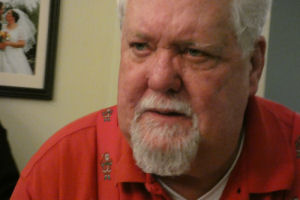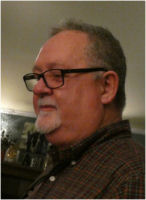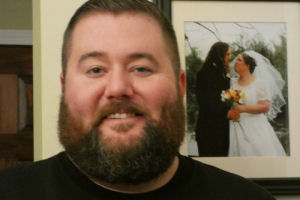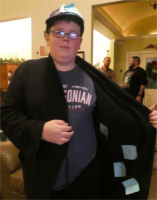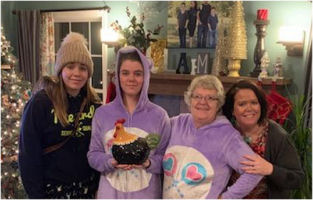 Checking out the prizes....Brendan selling low numbers for the prizes....In our jammies (our third and final outfit)

Christmas Morning at The Lahm Home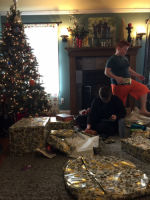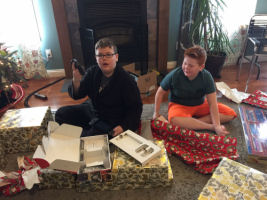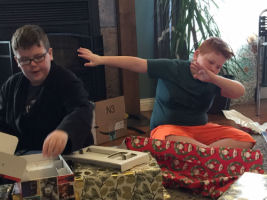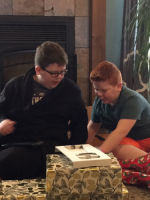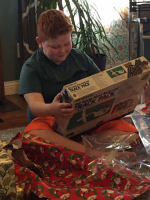 Two very happy boys!

Email Grandma Kathy

Return to Grandma Kathy's Home Page