Before The Parties

Featuring Kathy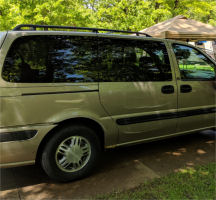 About a mile from Jean's house, I blew the head gasket on the Bat Van. Jeff rescued me. Well, at least the worst of the day is over.

Party One

Featuring: Kathy, Daphne, Erin, Jean, Jeff, Brendan, Owen

And a little later, Bill, Becky, Alex and Hannah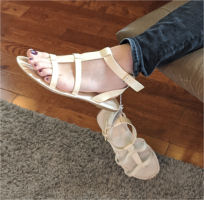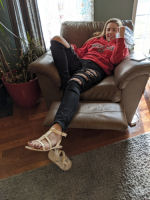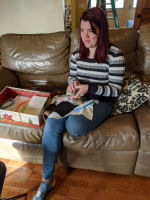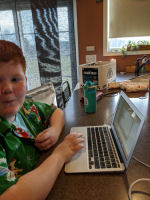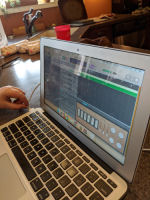 Daphne tries on shoes for her trip to Hawaii....Hey, if one shoe fits the other one will!
Erin was in line at Michael's with beginning cross-stitch stuff. I made her put it back and I gave her a starter kit from my stuff.
Owen wrote a song over seven minutes long for me for Christmas. It's amazing!


This is a small (16 seconds) of a song Owen wrote for me for Christmas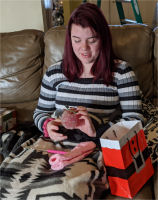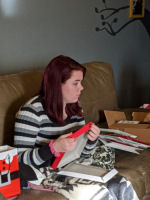 Erin checks out the lovely socks, back scratcher and ornament in the Santa bag....And opens 11 boxes of clothes she picked out on Black Friday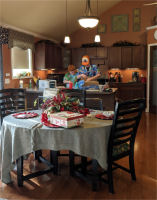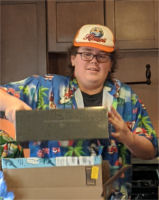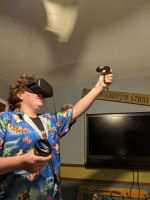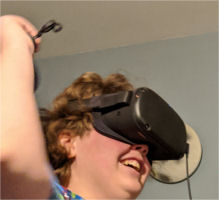 Brendan got an Oculus Quest All-in-one VR Gaming Headset 64GB Black 301 for Christmas and his birthday....I love the genuine smile in the last picture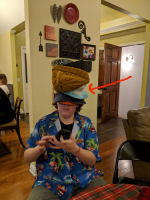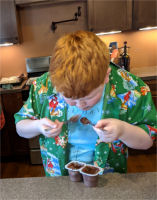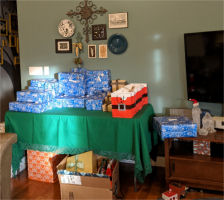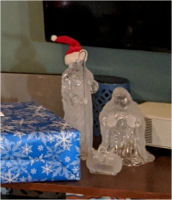 We had a birthday party for Brendan so we could give him his Virtual Reality gift. He had to wear the Birthday Hat. It's Brendan so he took it a step further!
Owen uses two hands to eat his traditional pudding....Time to get ready for the next party....Joseph has his Santa hat on again.

Wait....What now?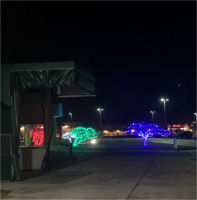 Why are we looking at the pretty lights at St. Anthony Hospital?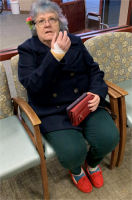 I cut the palm of my hand on Jean's new steak knives so Daphne had to drive me to get stitches....My very first stitches!
I got four stitches instead of glue or butterfly bandages because of how deep it was and where it was on my hand (in a movey place).
Daphne drove me because Jean was hosting the party and waiting for guests to arrive and Jeff was drinking and waiting for guests to arrive.
Some of us wore Hawaiian shirts this year and I also had a flower in my hair.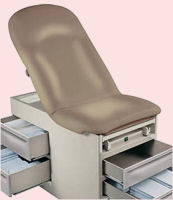 I was resting on a table like this and Daphne said, "Nice throne, Grandma"....This happens when a teenager is your driver. We actually had fun and laughed a lot.

So, we got back to the party after everyone arrived and we were just in time for dinner.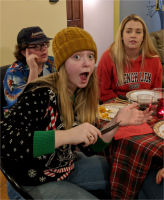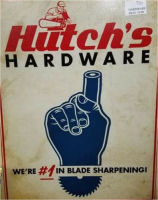 Hannah re-created my accident because that's what our family does....And someone found this sign for me. Lots of laughs again

Party Two

Everyone From Above And:

Pat, Brian, Alissa

Jim, Sean, Alexis, Kyle and Michael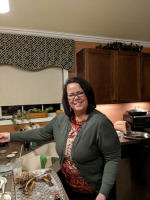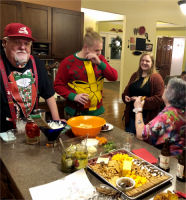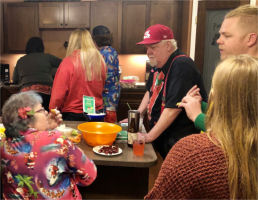 Hostess Jean....Enjoying hors d'oeuvres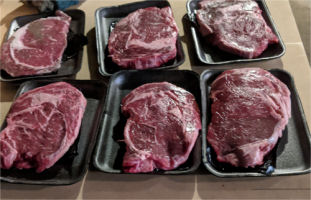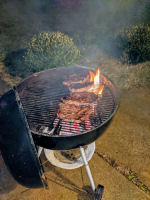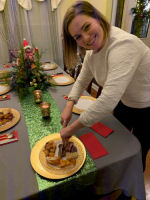 Jeff always cooks my steak perfectly (maybe they are all medium rare)....Alissa cut my steak for my because of my injury....I really appreciated it!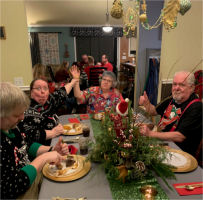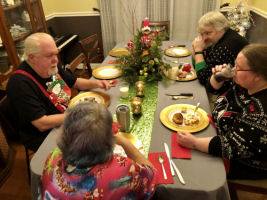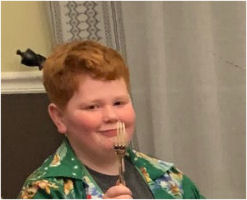 Dinner....Owen broke his fork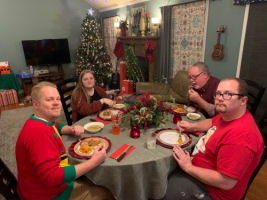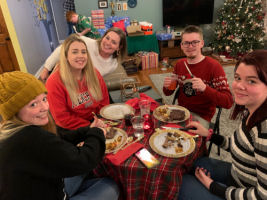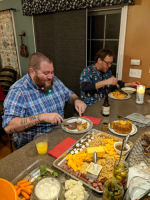 Really fine dinner with good company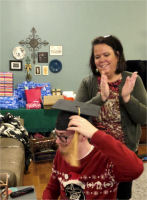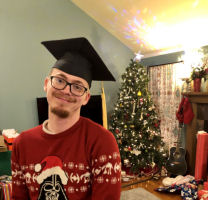 Jean had her Graduation Cap so she had Alex re-create his College Graduation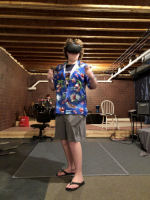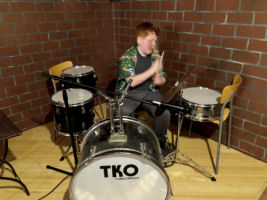 Basement Fun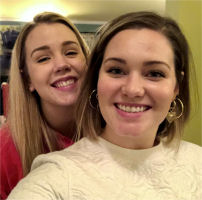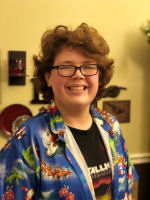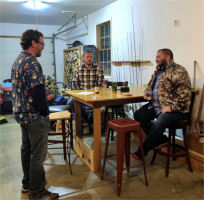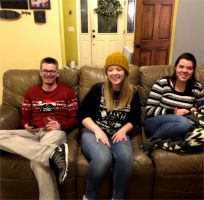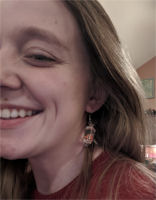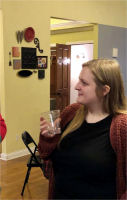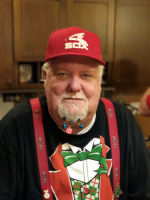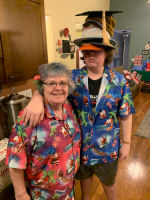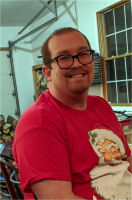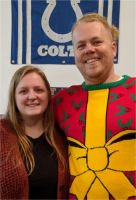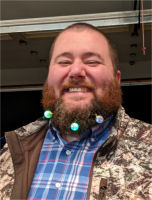 My favorite: Genuine smiles!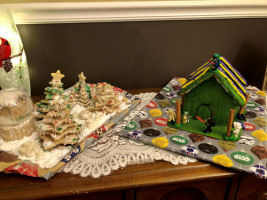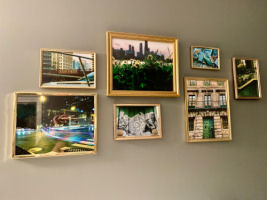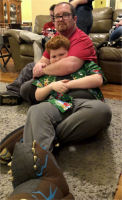 The gingerbread contest (Pat and Alissa won)....Brian and Alissa's art in the laundry room....Owen in big slippers playing with Kyle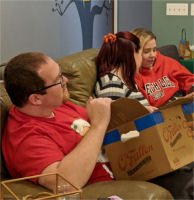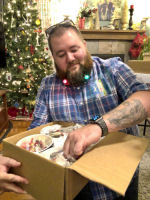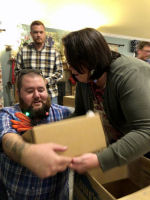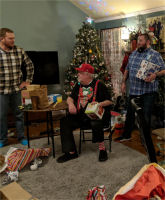 The grab bag was a lot of fun....I ended up with an adorable Camper Cookie Jar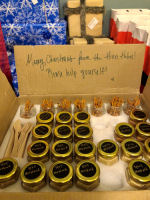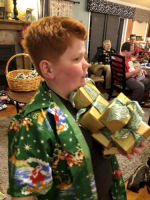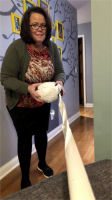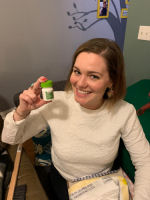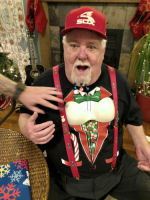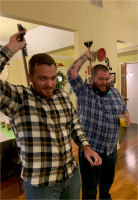 Exchanging gifts....Michael and Brian use the snow scrapers I gave everyone to scratch their backs!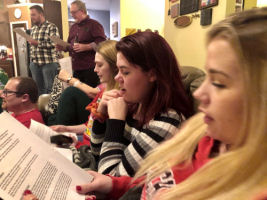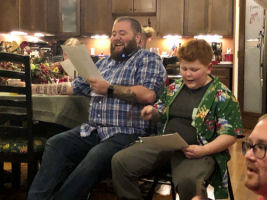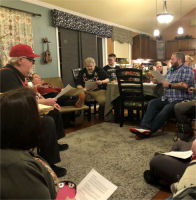 Our singing....Earlier this year, Daphne said she hates Christmas songs unless it is singing with everyone on Christmas Eve!


Alissa made this excellent video of our singing (15 seconds)
I can't see all of it unless I play it twice....could just be me!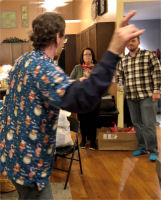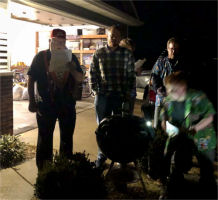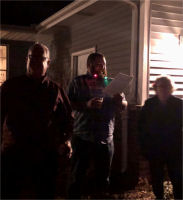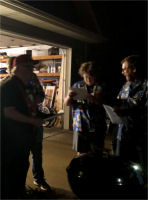 It was nice out so Jeff suggested we sing The Twelve Days of Christmas outside....So we did! We laughed a lot!

The 2019 Lahm Family Christmas

Christmas Morning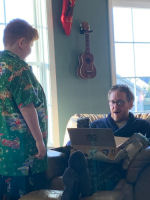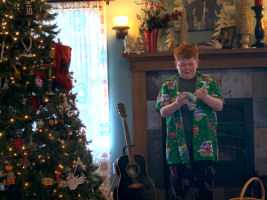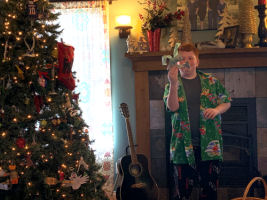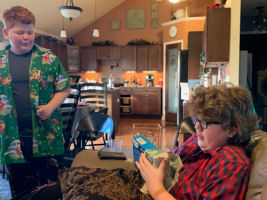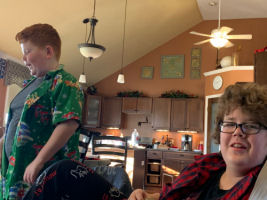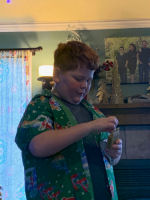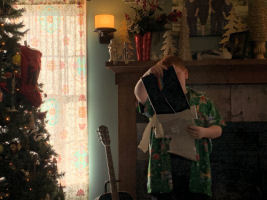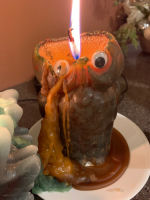 Fun was had by all!

The Corbet Family Christmas Morning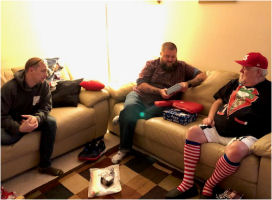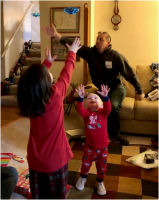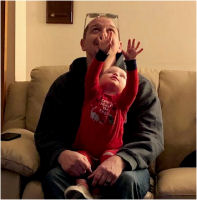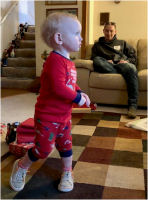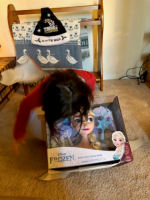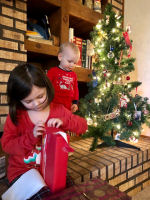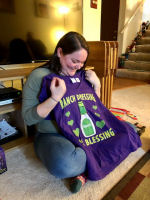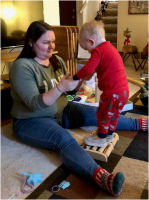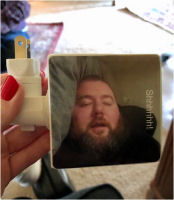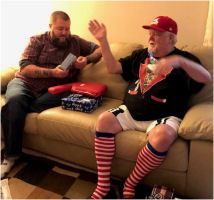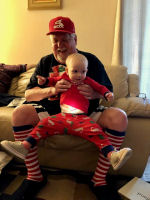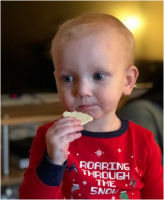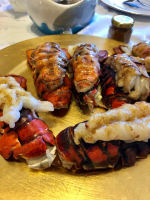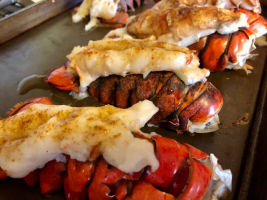 Fun morning with breakfast lobster....Pictures by Alissa

At Kathy's with the Hineses on Christmas Morning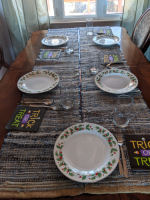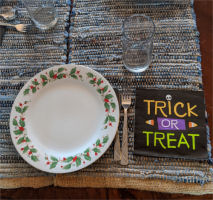 Note the fancy Christmas plates with the "on sale" Halloween napkins....Hannah made a great breakfast casserole

Email Grandma Kathy

Return to Grandma Kathy's Home Page