The Calling of the Clan
June 30, 2002
Click on the small picture to see the larger version








Drinking Dr. IGA and putting out the picnic table fire.




The Sweeneys have a table fire too!








Bozo Buckets







The Mummy Wrap







Hanging around the shelter.















The Egg Toss.





Water Balloon Toss and dumping water on Kelly.









Watermellon Eating Contest.




Sean watching Michael eat watermellon while
remembering his own triumphant win in 1996.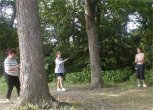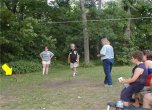 Jean, Pat and Terry wait for Laura's horseshoe to stop rolling before they can score the round.





The Champions and Runner-ups show their prizes.




Email Kathy

Return to Kathy's Homepage