Disney World Orlando, Florida


August 2004

Kathy Ward, Eileen Corbet, Bill, Becky, Alex and Hannah Hines

Featuring:

Tuesday....Janet and Colin

Friday....Hurricane Charley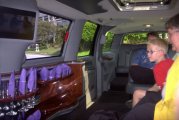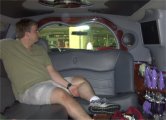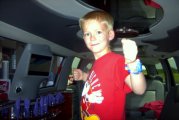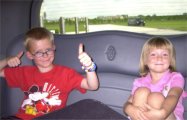 Becky rented a Limo because it was just as cheap as riding the bus for the six of us.
We all really enjoyed it....and it stopped for a 20 minute grocery break!
Then on to Pop Century...our hotel on the Disney property.





We had lunch at Pop Century. The kids had silly and very colorful sandwiches.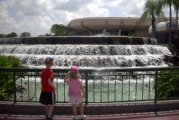 Then it was off to Epcot. Hannah and Alex enjoyed Nemo and a fountain.
Alex checked out the Living Coral....it sprayed water on him and he loved it!






In Innovations, Alex played a video game against three other players in front of the audience.
He tied for first place! Hannah, Mommy and Daddy watched him win.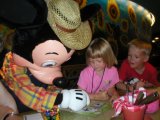 At the Ice Cream Social, we met some characters.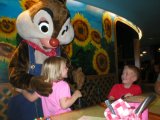 Somehow, Dale ended up wearing Alex and Hannah's hats!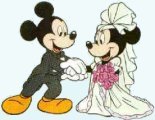 Becky and Bill renewed their wedding vows. We were all surprised....even Bill!





In Italy, Alex and Hannah made masks. Alex posed with a statue.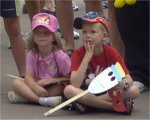 For some reason, the statue made the kids laugh, be thoughtful and then laugh again.






Then Grandma Kathy posed with the statue and it knocked her hat off!




We had dinner in Japan at Teppanyaki. Chef Wadu was really great!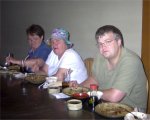 Hannah and Alex used their chopsticks. Alex really likes shrimp. Eileen, Kathy and Bill enjoyed dinner very much.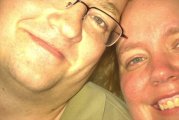 Bill and Becky pose for a close-up. Alex and Hannah play in the water.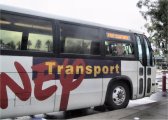 Our transportation (great). Hannah wore her princess dress at the Magic Kingdom for a little while (it was itchy).
Alex and Hannah were surprised by some characters....Aunt Janet and her fiancee Colin!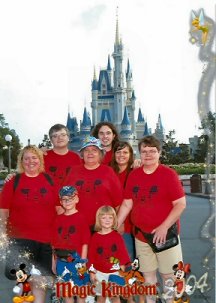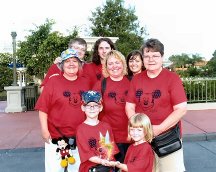 Beautiful professional pictures from Disney®.
Notice the kids holding Tinkerbell in the second picture!






Colin and Janet. Janet's engagement ring that was designed by Colin. It has both of their birthstones on it!
The Red Team poses in front of the Castle.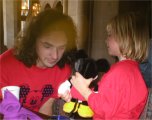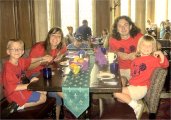 We had breakfast in the Castle with some neat characters.
Colin and Hannah...Alex and Janet...Alex, Janet, Colin and Hannah.






Hannah and Alex pose with Princesses.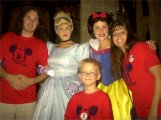 Colin, Alex and Janet...Hannah and Alex.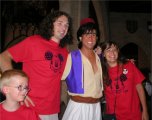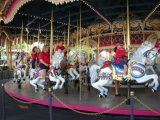 Aladdin was quite popular with our group. And the Carousel was fun.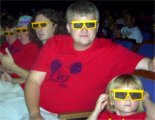 Eileen, Kathy, Colin, Bill and Hannah enjoy Mickey's Philharmagic in 3D.
Janet, Hannah, Alex and Colin.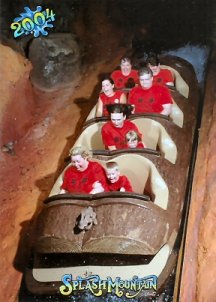 We all rode Splash Mountain and got this great Disney® picture.
Hannah said the ride made her stomach and brain feel weird.
Alex liked it so much he went on again with his Mom and Dad!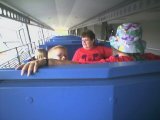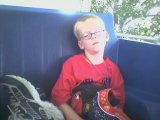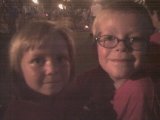 We rode the Blue Train (TTA--Tomorrowland's Transit Authority).
Kathy and Eileen escaped back to Pop Century before the rest of the group rode it two more times!
The Hineses also went on the Buzz Lightyear ride.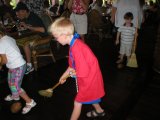 We had a wonderful dinner with Janet and Colin at O'Hana's at the Polynesian.
Alex and Hannah pushed coconuts with brooms and were rewarded with gummy worms.
Kathy's dessert presentation was beautiful....and delicious!






Janet and Colin headed home and the rest of the Red Team headed to the parade in the Magic Kingdom.
Hannah and Alex play with their spinning lights and the parade began.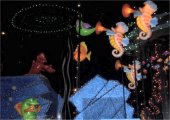 Beautiful lights and friendly people!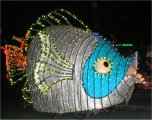 Mickey Mouse!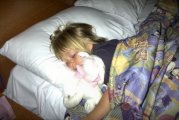 The perfect way to end a perfect day!



The Hineses had lunch at the Rainforest Cafe while Kathy and Eileen shopped in Downtown Disney.
Then we all returned to Epcot.






We have a wonderful view of Illuminations from the Mexican Cafe.
What a wonderful show!



We we up early and off to Typhoon Lagoon: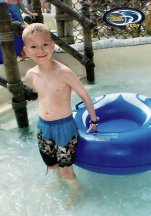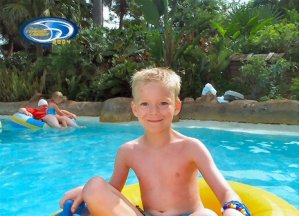 Professional pictures of Alex from Disney®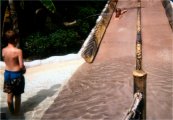 Alex and Hannah enjoy the slides in the kiddie area.





The Hineses in the terrific Wave Pool.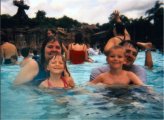 Kathy with Hannah and Bill with Alex....Hannah....Kathy





Eileen in a shark cage.....then she went in the shark pool without the cage!
Kathy and Alex also enjoyed the sharks, stingrays and fish in the shark pool.

On to Downtown Disney: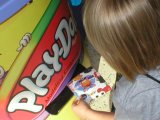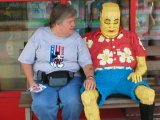 Hannah printed her Mr. Potato Head picture and Kathy posed with Lego Man.






Potato Heads created by Hannah, Alex and Eileen.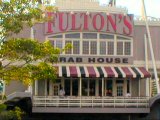 Dinner was at Fulton's Crab House in Downtown Disney.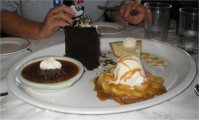 Alex and Hannah really enjoyed their corn.
We told our server, Tom, to surprise us with any four desserts.
Notice how nicely and platter is decorated.
And the desserts were delicious.






Cirque was wonderful. Alex and Hannah were enthralled....as were the rest of us!



Eileen, Becky and Bill went to a "behind the scenes" tour of Epcot and the kids and I had a fun time.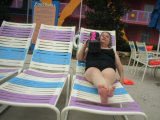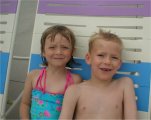 We played in the pool (where I talked on my cell phone) and played in the playground.
We also had what Alex called "the best meal all week" at the Pop Century Food Court.
The kids had ice cream (which they had to eat first because it was melting), macaroni and cheese, breadsticks and grapes.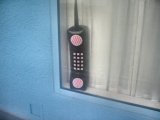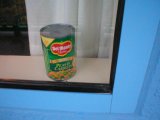 The maids put my cell phone in our window.
So I put a can of vegetables (that Becky accidently bought at our grocery stop) in their window.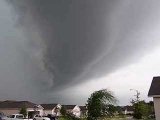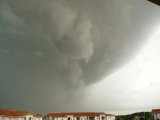 Hurricane Charley stopped by for a visit.
(These two pictures are from news sites.)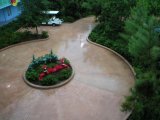 When Eileen, Becky and Bill returned from Epcot, we began Hurricane Charley watch.
A picture outside our room before the hurricane, TV coverage and our letter from Pop Century.
We were told to stay in our rooms and away from our window.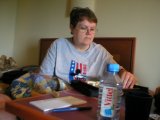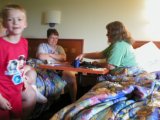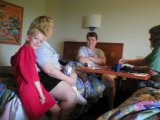 We weathered the storm by playing Scrabble. Eileen won.
There was a lot of wind and rain but we were safe in our room. It was rather exciting but sad to see the damage the storm did.
All of the Disney Parks closed by 1:00. And the tolls were suspended on the tollway.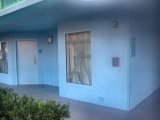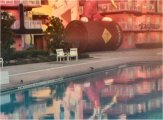 Someone taped their hotel room window. There were a bunch of birds around the swimming pool.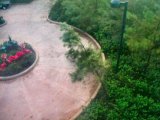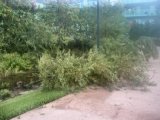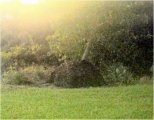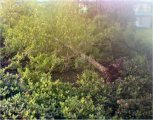 Trees near our room that were uprooted.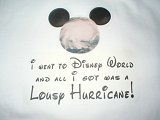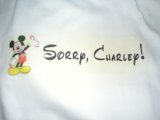 When I got home, Jean and Laura gave me this shirt they made for me.

Becky had a cold so she and Bill stayed in the room in the morning. Eileen headed off to MGM. Alex, Hannah and I were supposed to meet her there but Becky's cell phone (which I was using) didn't work so we never caught up with her.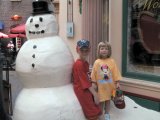 At MGM, Alex and Hannah posed with a snowman, played in a fire hydrant
and got sprayed by an All Terrain Armored Transport Walker.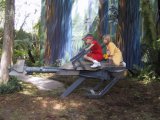 Alex and Hannah on an Imperial Speeder Bike.
We saw the 3D Muppet Show and went to the Honey I Shrunk the Kids playground.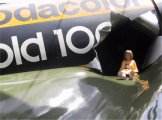 Hannah on the film slide...Hannah on a bug...Alex on a bug.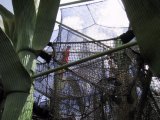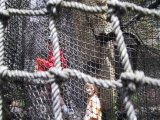 Alex and Hannah liked the spider web so much they went on it twice.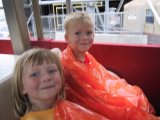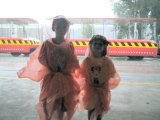 On the Backlot Tour, we saw a neat water tower and donned our ponchos because of the rain.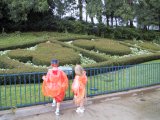 On the way out of the park, Alex and Hannah checked out some Mickey topiary.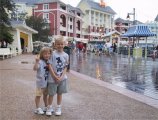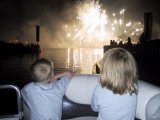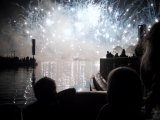 We had dinner at Spoodles in Downtown Disney and then went on a wonderful pontoon ride to
Epcot to see Illuminations from the water. It was great. We saw the lasers and had a lot of fun.
We also wore matching shirts again. Becky had three different matching shirts for us to wear!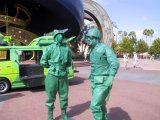 At MGM, the soldiers came and talked to us.
Eileen was first in line to get her picture taken with Sarge.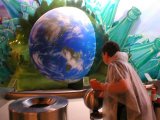 We went to this Coke place to try Coke products from around the world.
One was so bad I quit tasting them...but Eileen held in there and tried them all!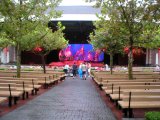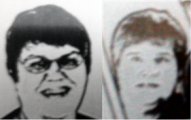 We watched American Vybe at USA. Eileen posed by the ball.
We had our picture taken for the Legacy Wall but it won't be ready for a
couple of months so we found two people already on the Wall who look like us!





The real legacy picture (at 1F-32-1-20) and a picture of the tattoos Eileen, Becky and Kathy got.





We caught up with the Hineses and had lunch at The Prime Time Cafe.
Alex and Hannah watching TV and sitting on a couch.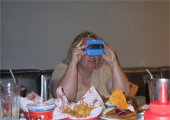 The dessert menu was on a viewfinder.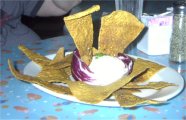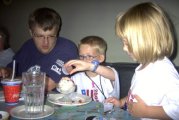 An appetizer and dessert.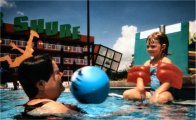 Yet another trip to the Pop Century Pool.
In the first picture, notice the person walking in front of the giant computer....it is huge!





Alex and Hannah had a great time....and never got even a hint of sunburn.

Eileen and Kathy had dinner at Norway in Epcot and it was great.
The Hineses went back to MGM for the evening.






Hannah and Alex with Goofy and Minnie....Hannah hugs Goliath and talks to Jo-Jo.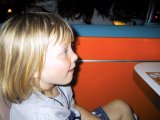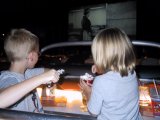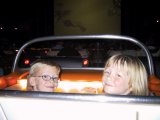 The Hineses had dinner at The Sci-Fi Cafe.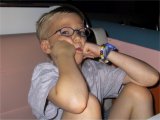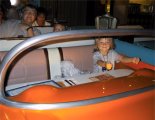 Alex being silly...Bill, Alex and Hannah.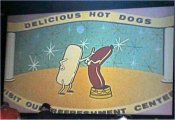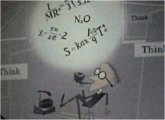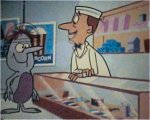 Becky really enjoyed the movies they played.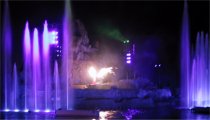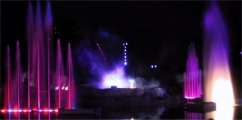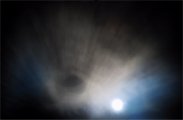 The Hineses really enjoyed the Fantasmic Show.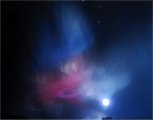 Mickey





Our flight back to Chicago was fine. We caught the 7:35 a.m. flight.
There was damage at the Orlando airport and it was crowded.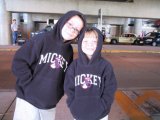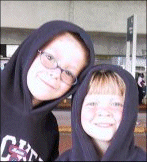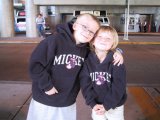 In Chicago, we took some pictures while waiting for Becky to get the van from the parking lot.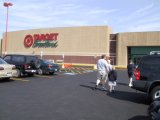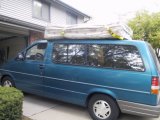 We stopped at Target and Bill loaded a mattress set on the van.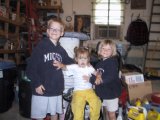 Back in Indiana, Jean, Laura and Daphne came for a visit.
The grandkids had spaghetti for lunch.
Alex and Hannah help Daphne put her shoe on.
Hannah posed nicely but Daphne was being dramatic about getting her picture taken.





When the Hineses left, so did Quincy and Simba!





Email Kathy
Email the Hineses
Email Eileen
Return to Kathy's Home Page