:

Erin Eileen Pistello

Second Birthday

Russell Farms

October 21, 2006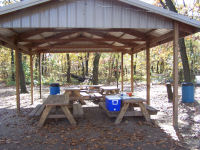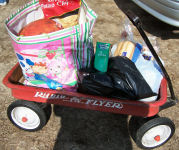 Pavallion at Russell Farms...hauling stuff with the wagon.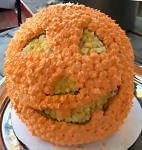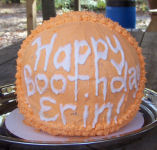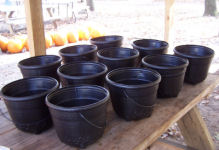 Erin's cake....made by Laura and decorated by Jean....Caldrons as goody bags.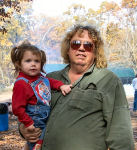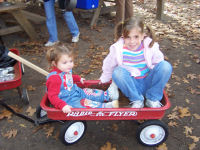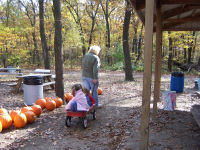 Grandpa Terry with the Birthday Girl...Erin and Kaci go for a ride in the wagon pulled by Grandpa Terry.

In the Jumpy Thingy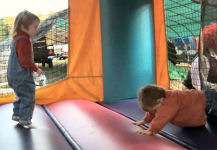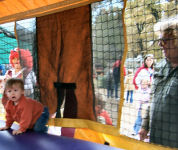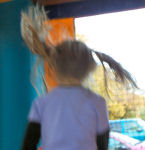 Erin and Grandpa Terry watch Brendan get in....Daphne's wild hair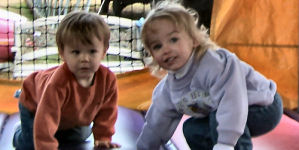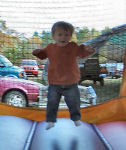 Brendan and Maddy....Brendan in the air.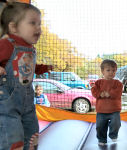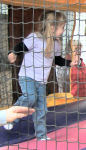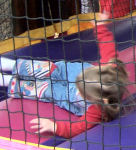 Mikala watching Erin and Brendan....Daphne....Erin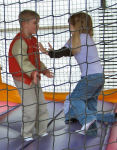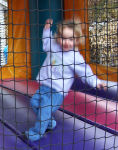 Josh and Daphne....Maddy going down!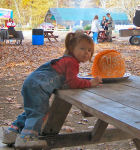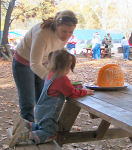 Erin snuck some frosting from her cake....and then got busted by Mommy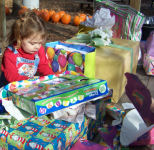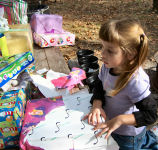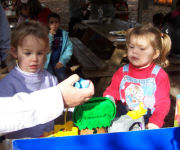 Erin opening gifts....Daphne helping....Erin and Maddy looking at a bird in Grandma Kathy's hand.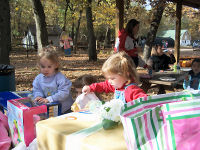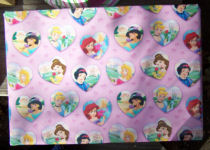 Maddy, Daphne and Erin....Erin's favorite wrapping paper (from Aunt Jen, Uncle Tom and Maddy)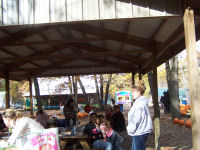 Group shots under the pavillion.

Riding the Train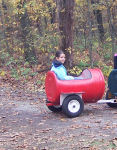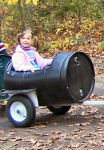 The train heads into the woods....Mikala....Kaci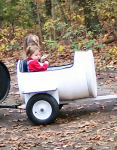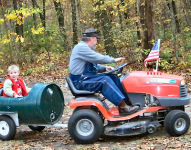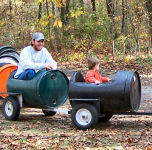 Erin and Daphne....Josh and the Driver....Jeff and Brendan.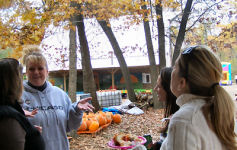 Jean, Jen, Gina and Laura chat.

The Pinata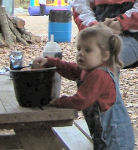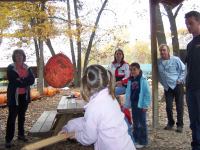 Erin gives away the stick after hitting the pinata....she then played with her caldron....Daphne gets in some hits.
Grammy Jo, Staci, Grandpa Jim and Daddy are watching the action.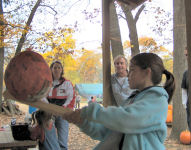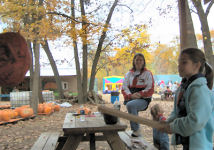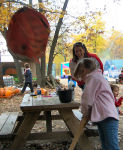 Mikala finally opens the pinata....Kaci helps spread the candy around.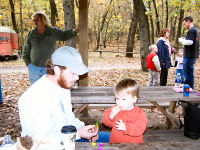 Jeff shows Brendan how to blow bubbles.

Erin poses with pumpkins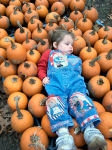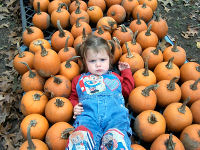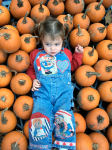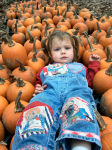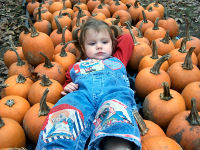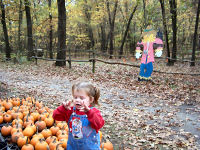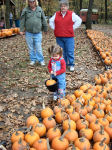 Everyone got to pick out a pumpkin for their caldron....Erin got hers.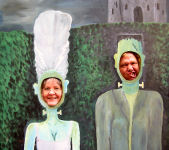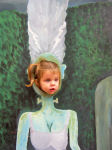 Grandma Kathy and Grandpa Terry
Erin saw Grandma Kathy and said, "Grandma, you're a Princess!" Then she posed as a Princess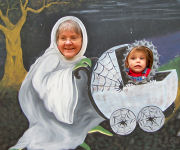 Grandma Kathy and Erin

Pony Rides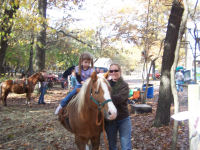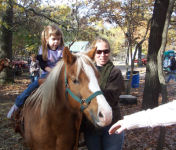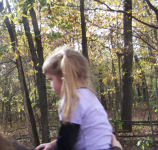 Daphne petted her pony....awww!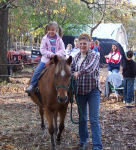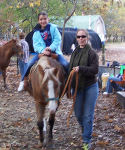 Kaci and Mikala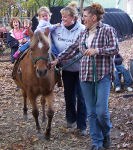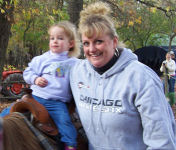 Maddy and Jen...Maddy really liked it once she got going.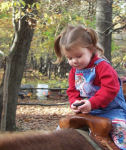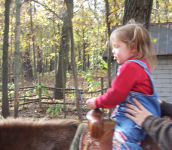 Erin....The Birthday Girl got an extra loop on her pony.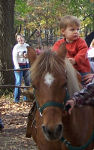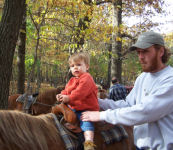 Brendan and Jeff

The Hayride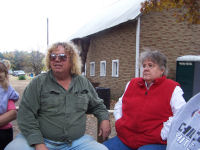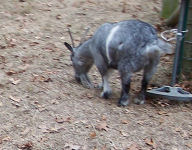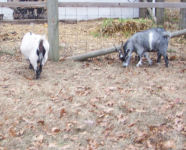 Grandpa Terry and Grandma Kathy....the goats were out of their pen!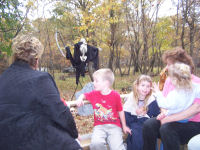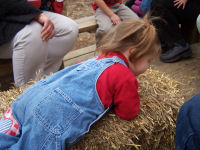 Althea, Josh, Daphne, Grammy Jo and Maddy....Erin playing on the hay and pretending she's sleeping.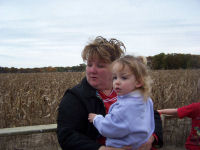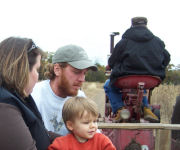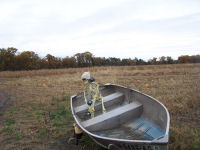 Althea and Maddy....Jean, Jeff, Brendan and the Driver....fisherman.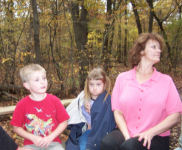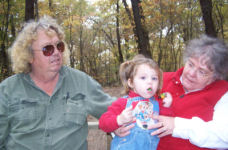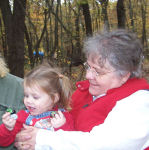 Josh, Daphne and Grammy Jo....Erin with a finger puppet in her mouth....Erin and Grandma Kathy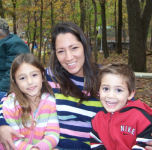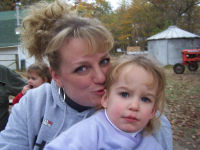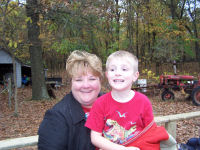 Devan, Gina and Tony....Jen and Maddy....Althea and Josh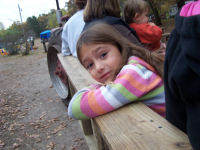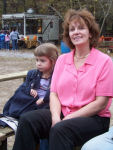 Devan....Daphne and Grammy Jo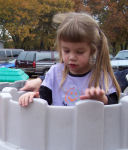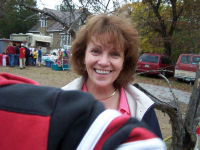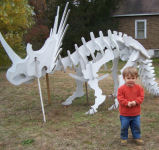 Daphne in the playground....Grammy Jo....Brendan with the dinosaur skeleton.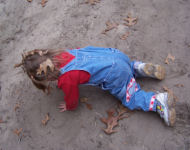 The Birthday Girl playing in the dirt with leaves in her hair.

Email Grandma Kathy Return to Grandma Kathy's Home Page