Florida 2013

Kathy, Jean, Brendan and Owen

A Big Surprise for Brendan and Owen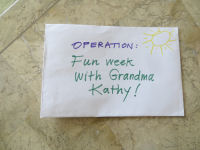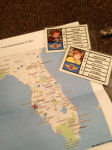 Brendan and Owen were given their surprise packet "in the middle of the night" on our way to Midway Airport
The A on the map showed we were going to Anna Maria Island! And they had special passes to wear!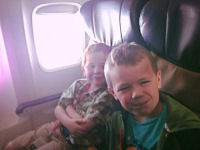 This was the boys first airplane flight (Thanks, Aunt Laura) and they loved it.
We had to make a stop in Raleigh, NC and they boys were thrilled they had two airplane flights in one day!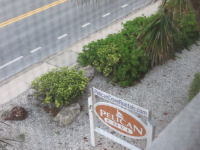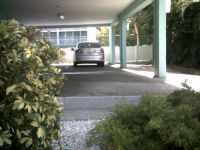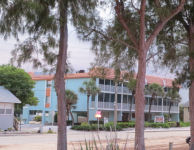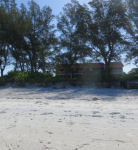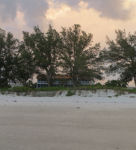 We parked our rental car at Pelican Cove (Thanks Michelle-Tracy Katsaros) after stopping for groceries at Sweetbay in Bradenton.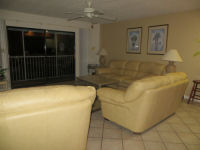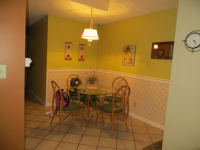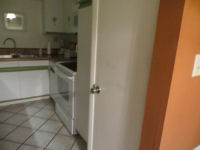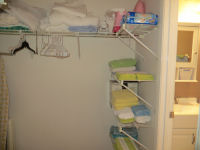 Just a couple of pictures of the wonderful condo....two bedrooms, two baths, a full kitchen, a walk-in closet and two balconies!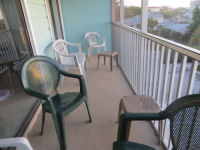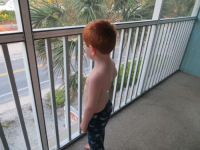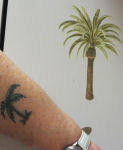 The bayside balcony....the gulf side balcony....the palm tree decor compliments one of my tattoos!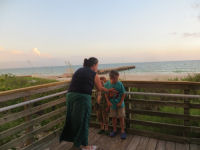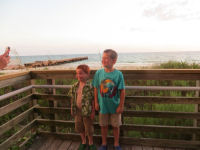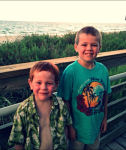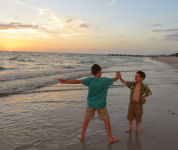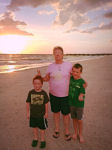 Checking out the water and the sunset on our first night....the boys were as impressed as we were!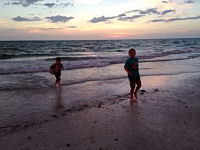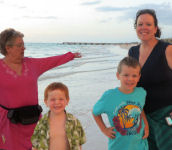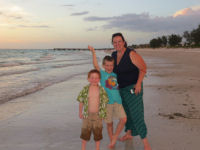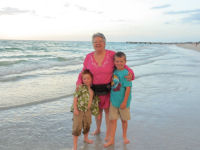 We are all smiling.....a lot!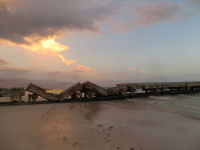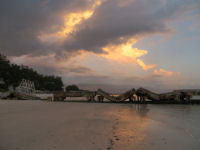 A storm coming in....We didn't get rained on once during this trip....I thank the ponchos....And we saw several fierce storms.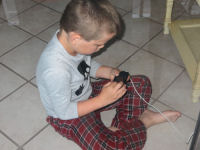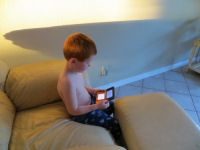 Brendan got an I-pod Touch with Minecraft....Owen got Lego City Undercover. These gadgets kept them busy at the airports and in the car....very nice.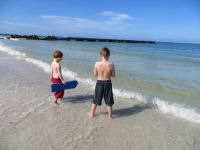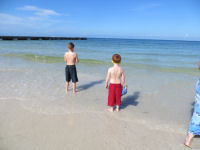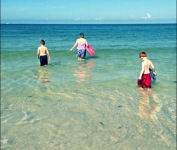 After the first time in the water, we didn't take pictures unless it was for a sunset.
We swam a lot....Jean most of all. We all loved the water because it was warm and wavy.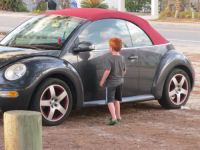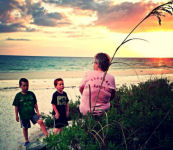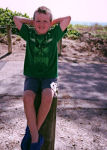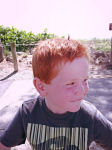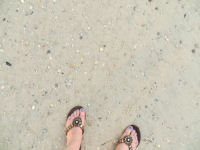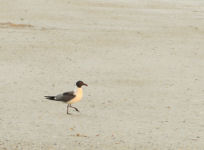 Owen checks out a Herbie....Just kicking back and relaxing.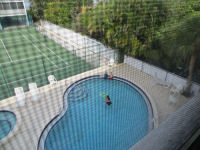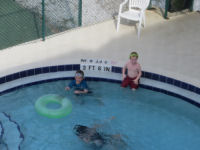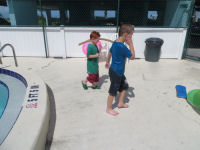 I saw the boys on the side of the pool and asked them if they were in a time-out....They weren't....Jean was playing a game with them
The pool was great and we always had it to ourselves....The hot tub was too hot....lol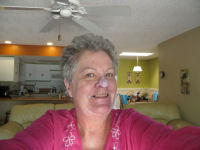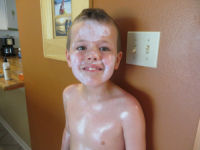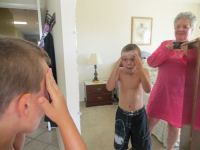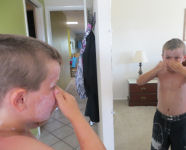 Brendan laughed at the sun block on my nose. I took a picture of him and invited him to look in a mirror
We both cracked up and he rubbed in his sun block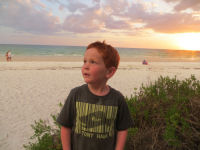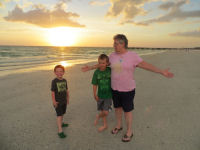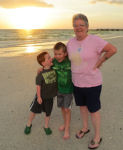 Another beautiful sunset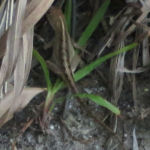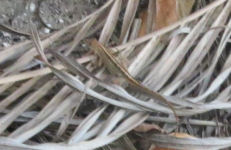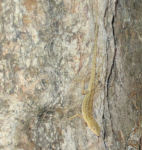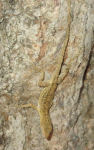 The boys were thrilled with the lizzards they saw and were happy to get pictures of a couple of them
Brendan named one of them Bob-a-lot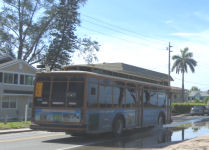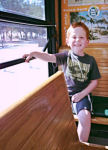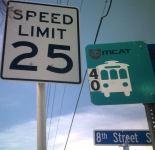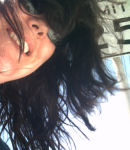 We got around the island on the free trolley....Two evenings we all got ice cream at Joe's but we had enough food so we never ate out.
Jean even made home-made salsa and a great salad to go with lunch and dinner....the broasted chicken was great for several meals
Brendan took an interesting picture of Jean's hair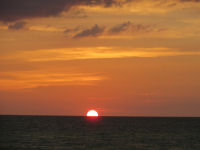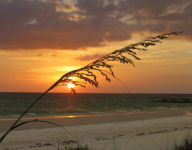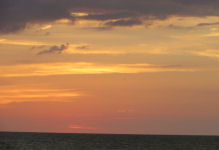 Final sunset on our island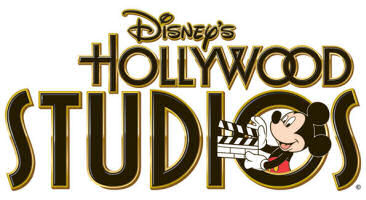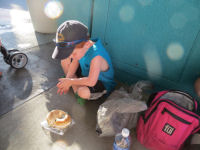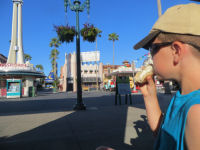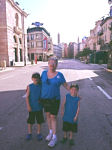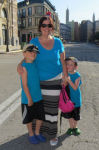 First in line....And eating breakfast. Owen estimated we waited three hours....it was about one hour
The boys guarded the line and were given four fast passes for any fast past ride at any time...wow!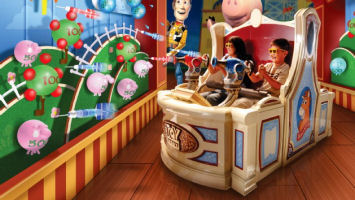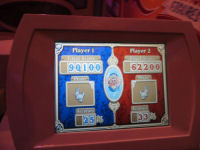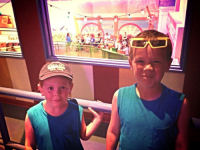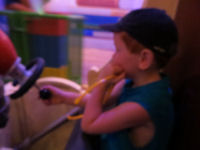 We rode Toy Story right away then again in a little while with a fast pass....Jean and the boys rode it again in the evening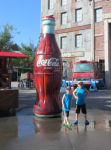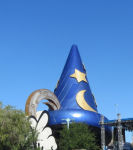 The boys posing by the Coke bottle.....it got them wet!.....The hat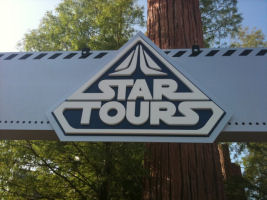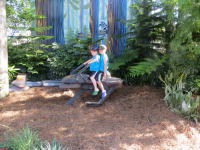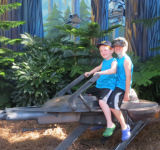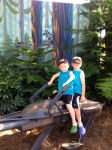 The boys on an x-wing fighter
I thought the boys would hate Star Tours because it's one of those virtual reality shaky rides....but they loved it!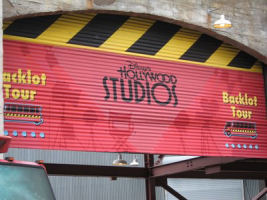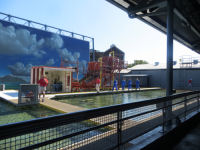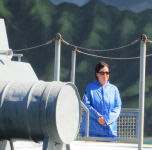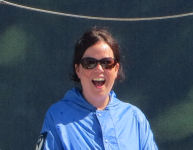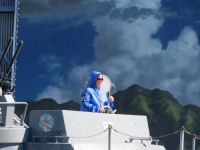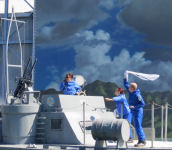 Jean was the first of four volunteers to be in the show....And she's the captain of the boat!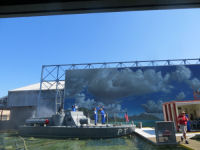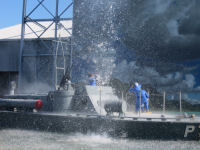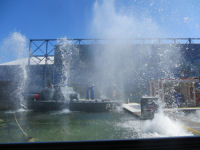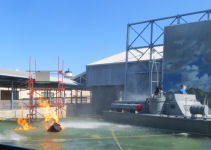 Water and fire....how exciting and fun!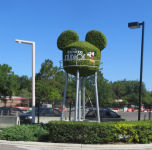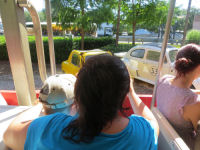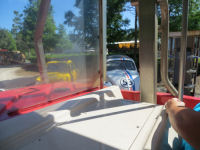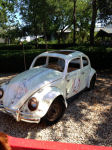 The boys loved seeing the real Herbie!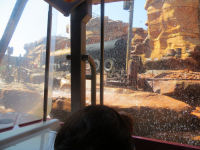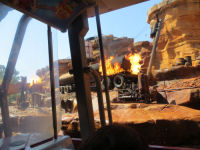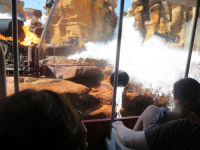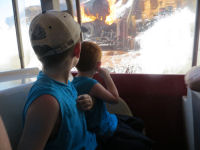 Rain, fire then water....And two very enthralled boys!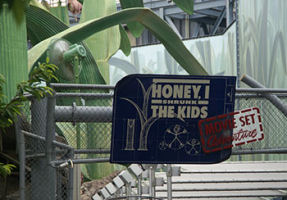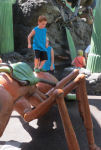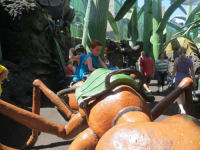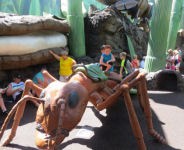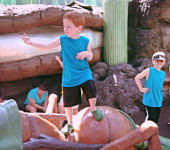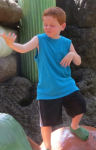 Brendan said the giant ant was too hot to sit on....So Owen did air guitar instead!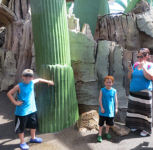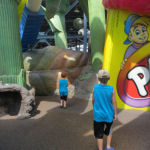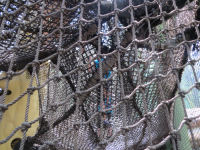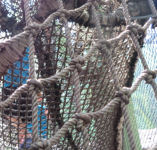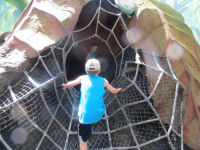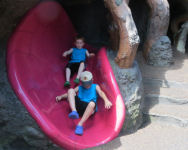 Just a very fun place to play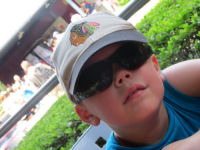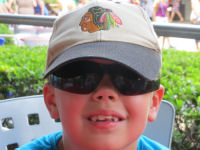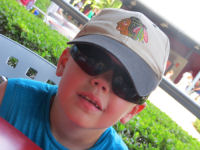 Congratulations to the Chicago Blackhawks for their fifth Stanley Cup Win in 26 years!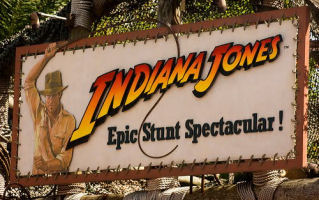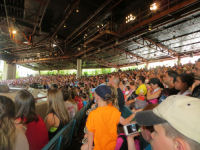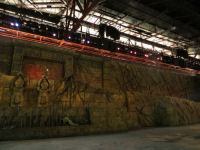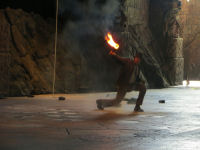 Over 2,000 people watching the show....A stuntman named Kevin was Indiana Jones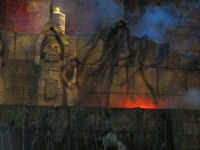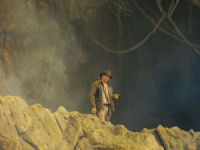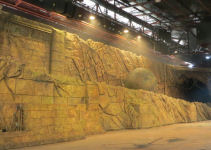 The stunts were amazing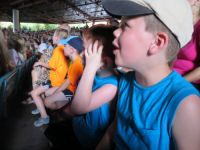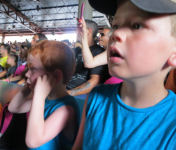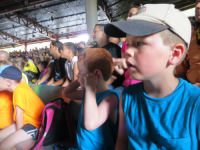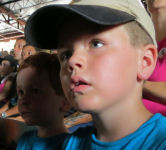 The boys were rivetted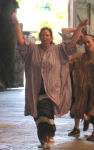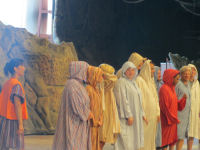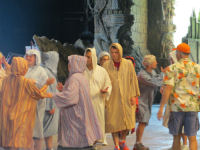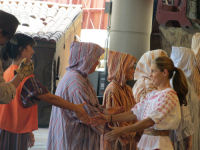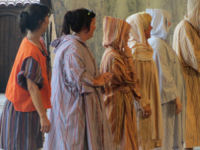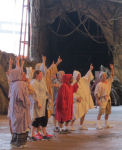 Why yes, Jean was the first person to be selected to be an extra in the show.
She was thrilled and did a great job.
The boys didn't even seemed surprised their Mom was in two shows....lol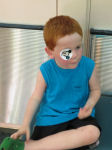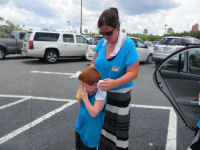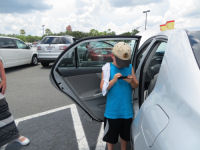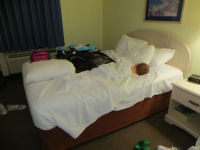 Owen put a sticker on his eye....Our rental car needed a jump so we were given 12 glasses of water (six with ice) and cold, wet wash cloths
No charge for the jump....Then it was nap time at the Best Western where we spent our last night in Florida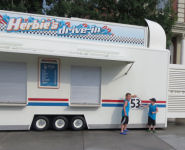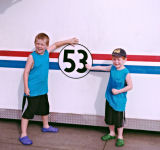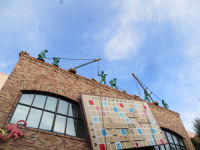 We told the boys we would have dinner here but it was closed.
The boys were happy to pose by it....Love the army men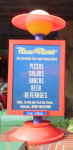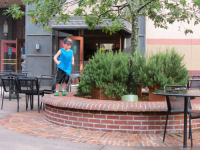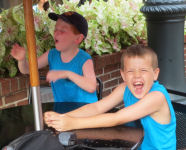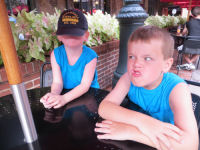 Where we had dinner....The boys goofing around while Jean got our food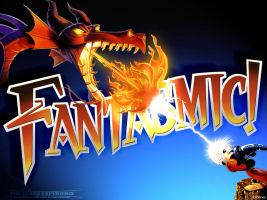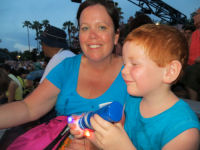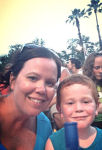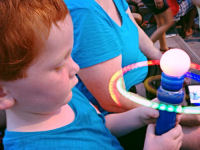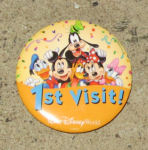 Great fun at the great show....And a neat pin to take home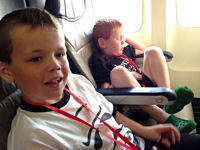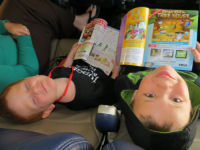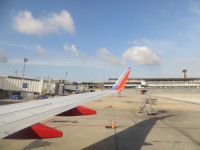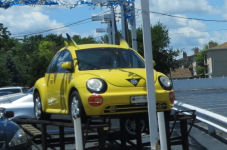 Three plane rides home....the boys were thrilled....really....A Pokeman Herbie on Cicero.

Email Grandma Kathy

Return to Grandma Kathy's Page