Carrie's Dog Sir Jameson

June, 2005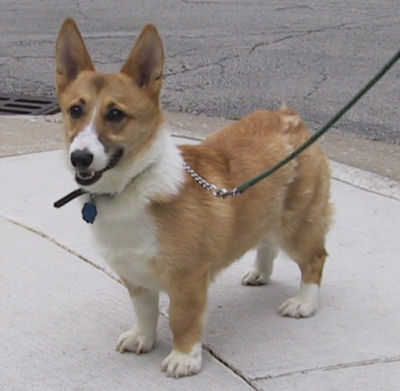 The Proud Warrior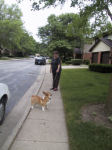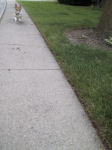 Eileen tried to walk Sir Jameson but he kept looking back for Carrie.
Eileen finally let him go and he ran back to Carrie.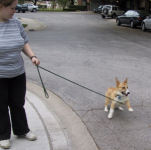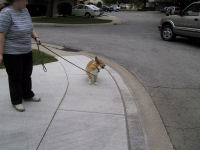 Carrie holds back Sir Jameson from chasing a car and he got tangled in his leash.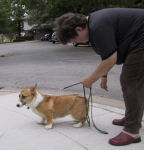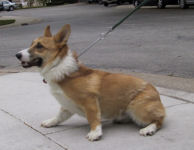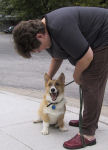 Dog Grandma Eileen told Jamesly to "Sit" (several times), and he did!
We all told him what a good doggie he was.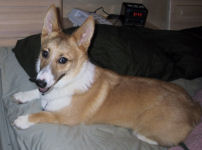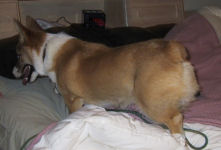 Of course Sir Jameson can sit on the bed!
Both Carrie and Eileen thinks he has the cutest little tailless butt.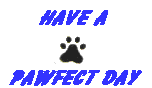 Sir Jameson is a Pembroke Welsh Corgi.
He had a virus a short time ago but he is doing well now.





A visit from the Cousins
Still June, 2005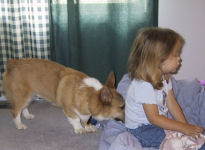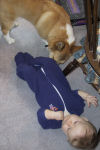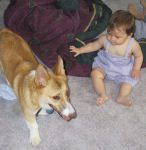 Sir Jameson checks out Cousins Daphne and Brendan.
Cousin Erin tries to pet Sir Jameson.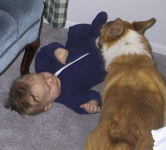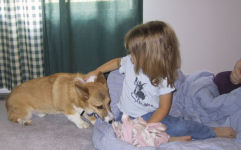 Sir Jameson protects Brendan and lets Daphne pet him.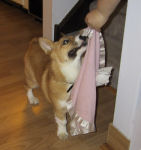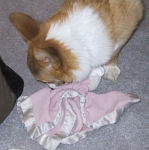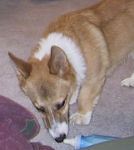 He really likes Daphne's boopie and Erin's bottle.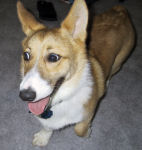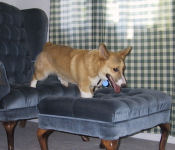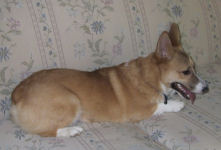 Sir Jameson poses....jumps from the chair to the ottoman....rests on the couch.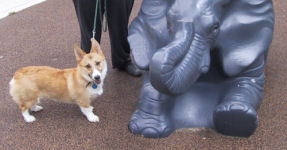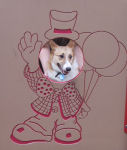 At Patriot Park, Sir Jameson plays by an elephant and poses as a clown.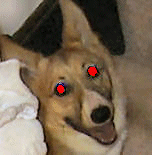 It was a fun day for Sir Jameson, but the Cousins might have driven him a little nuts!





A gift from Great Aunt Kathy
Still June, 2005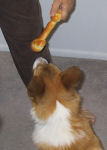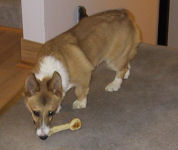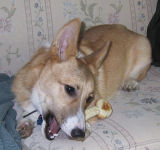 Great Aunt Kathy bought Sir Jameson a doggy bagel from Great American Bagel....he loved it!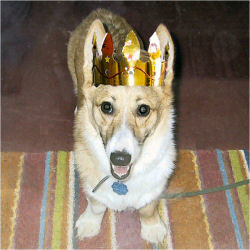 A Surprise Birthday Party for Sir Jameson!
He really was surprised!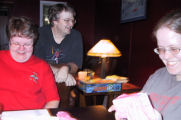 Eileen, Bill and Carrie are in the Happy First Birthday mode!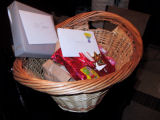 The gifts....Carrie opens a card from Jean....the gifts opened.
Actually, Kathy won the toy dog for knowing the most about Sir Jameson in one of the party games. But she gave it to Carrie because Carrie wanted it. Everyone seemed surprised Kathy
knew the most about the party boy until she reminded everyone that she is his webmistress!






Carrie and Eileen show off the cookies they found in their "Doggy Bags."





Quincy guards Great Aunt Kathy from Sir Jameson.
Simba also keeps an eye on the furry intruder.





Simba and Quincy guard the house from Sir Jameson who was in his cage for the night.

Labor Day 2005



Sir Jameson tells you about the party in his own words: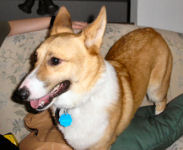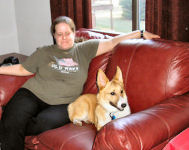 I can sit on the old couch because Grandma Eileen gave it to Mommy....I can also
sit on Grandma's new couch with Mommy because Grandma loves me so much!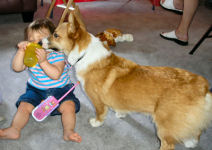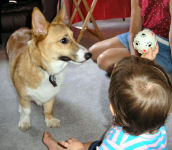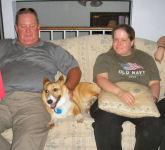 I developed a special bond with the little one called Erin and that guy, Jim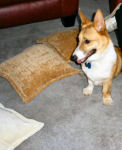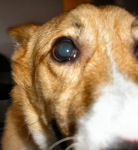 Grandma bought some pillows to match me!...my eye!



Recently discovered Puppy Pics now available!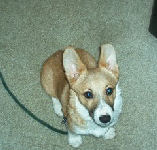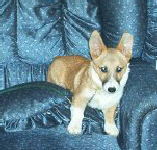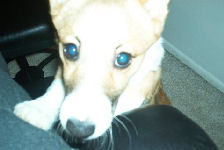 Just too, too adorable!



Email Sir Jameson
Email Great Aunt Kathy
Email Grandma Eileen
Return to Kathy's Home Page