Jean and I always seem to have little adventures when we shop. I told her I was going to keep a journal of our shopping trips and we both cracked up. So here it is....lol



October 29, 2003





Jean and I left my house at 9:30 and went to The Salvation Army in Merrillville where we met Laura and Daphne. Jean and Laura bought me a bunch of Christmas lights for $4.00. Also in the bag was a very pretty ornament!
Jean was looking for a Halloween costume and found a lovely choir robe for $2.00. And Laura bought a black leather Wilson briefcase with a broken clasp for $6.00.

Jean and I went on to Party City. Jean pulled into a parking spot a teenage girl was waiting for and the teenager flipped Jean off and layed on her horn. Jean confronted the girl, her friend and her mother in the store and words were exchanged. Jean told her how it was just a parking space so she should get over it. And she told her she was immature. The all were really immature so we walked away. It was quite funny. Go, Jean, Go!
Jean ran into a lady from the Hilltop Bar in Morocco and chatted with her. Then Jean bought what she came for, an afro wig for only $10.00.

We went to Barnes and Noble where I bought the first "Wheel Of Time" book, a mini mystery game, a book by Jon Stewart and a new travel journal.
In the parking lot, Jean and I attempted to get in the wrong Blazer - hers was the next one over.

At Target, I bought card stock and a dry erase board. Jean got tongs and misc. stuff. Jean called Laura and Laura said she took her "new" briefcase to Wilson's and they are going to fix the clasp for free. She can pick it up in about a week.
We got in the correct Blazer and drove to Sam's Club.

Jean treated for lunch at Sam's Club. Laney and Sam Chorzempa visited with us for a nice chat.



We then ran into Becky Ward and twelve day old Madison. We had a great mini-visit.
Jean bought me notepads and bought herself Halloween candy and food. We were back at my house by 4:00.



October 31, 2003


Can I tell you? Really.
Jean asked me to go to the new Goodwill in Crown Point. Sounded like fun. Just a couple hours of quality time with Jean. We left around 9:30.
Well. Jean called Laura and told her we were on our way to Crown Point and then we were heading for a few stores in Merrillville. Huh? And we were already on I-65 so I was trapped!
But I'm a very nice person so I went along with the plan.


We went to Goodwill, The Salvation Army, Steak and Shake, Hostess Day Old Bread Store, Party City, Hobby Lobby, Walgreens and Gordon Food Service!


So I saw this lady driving a car with a ton of fake animals in it. There were ducks all over her dashboard and a bunch of stuffed animals in the back. Jean was very embarrassed when I took a picture of the car. What fun. We got back to my house around 2:30.



November 19, 2003


Ok, so this was actually a great shopping trip! Everyone involved really had a wonderful

time.

I met Jean in Sumava Resorts at 8 a.m. While I was waiting for Jean, I read in the Post Tribune that Laura had won

second place ribbons in the Lake County Parks Department Photo Contest! Jean and I were thrilled! We drove to Laura's and watched her smile as she read the article. What fun!





We loaded up Jean's blazer and headed to Ikea. With traffic, it took about an hour and a half to get there. We met Becky and Hannah in the As Is room and hunted for bargains. Hannah and Daphne were really happy to see each other again and shared a cart for a while. There were a lot of nice comments from strangers about how cute they were!

We shopped for


four hours. Wow! The girls surprised me with a very lovely monetary gift and I was thrilled! During lunch, we drew names for our Family Christmas Grab Bag. The picture of Hannah is just before she stuffed two meatballs in her mouth then realized she couldn't handle them. Grandma Kathy saved her with a napkin. We all cracked up.

While waiting for the girls to check out, Hannah and I headed outside where we found a "car" cart. I pushed Hannah around in it and she really enjoyed it. Becky and Hannah headed home while Jean, Award Winning Photographer Laura, Daphne and I went to the Container Store. From there we began our more than two hour ride home....the traffic was terrible. Jean drove me to my car in Sumava where I promptly knocked over her neighbor's paper box. We left. When all three girls called that evening, they referred to it as my "hit and run"...sheesh. Jean said Jeff will fix it soon. Thanks. I got home just before 7 p.m.

Becky told us about an accident she witnessed. Just two cars ahead of her a car and a semi collided. The semi jack-knifed and went over the median. It appeared to Becky that everyone was at least alive. She called 911 and waited for the emergency crews. What a scary end to a great day.



November 25, 2003


Jean called at 10 and wanted to know if I wanted to go to Michaels with her because she had to drop the Blazer off in Crown Point for repairs.



I met Jean 11 ish and we went to Michaels for over an hour and bought Christmas crafts. I bought plaster ornaments and paint and then decided to take pictures of the finished products to use as a guide when I got home. Glad I had my camera with me!

At Sam's Club we ran into Laney Chorzempa again. She literally ran her cart in to Jean and we all cracked up!

We went to Walgreens and bought timers on sale and did a bunch of shopping at Meijer.

I dropped Jean off at Enterprise where she got a rental car and I was home by 6. Decent shopping trip.



November 26, 2003




Jean stopped by and we went to True Value's After Christmas Sale! Yes, on November 26th. Jean was happy with some outside light up trees she bought. Then we went through the Car Wash and stopped at Fagen's.




December 1, 2003




Jean and I went to WalMart. She bought a bunch of material on sale (only $1.00 a yard)! Back at her home, she made her first craft (a chair cover) with her new sewing machine. Fun, fun, fun!


Just for the record: Terry and I went to Sam's Club on December 6th and did not run into Laney Chorzempa!



December 17, 2003



With eight days to go before Christmas, Jean picked me up around 10:30 for our final round of Christmas shopping. We met Laura and Daphne at Target and got a lot of shopping done there.



We headed to Westlake Shoppingtown Southlake Mall where we shopped for a very long time. We had to park in the outer circle at the Mall but the crowds were pretty decent and service was very good. We spent a lot of time looking for some Manatees. We had a very nice lunch at the Food Court where Daphne took a little nap.

Laura and Daphne headed home and Jean and I stopped at Best Buy and went to Michaels for a craft sale. Jean found a couple of Manatees for Laura and we cracked up. It was a very successful shopping trip and I was home by about 6:00.



January 1, 2004


Jean picked my up 11ish and we headed to the bargains! Our first stop was Target where we bought a ton of Christmas stuff at 75% off.....great deals!

We stopped at Michael's, Barnes and Noble and American Sales. And then we spent quite a bit of time in Westlake Shoppingtown Southlake Mall. A lot of time was spent at the Hickory Farms kiosk where everything was 75% off.....Happy Birthday Terry! We hit a bunch of other stores but 50% off didn't cut it for us after buying so much stuff for 75% off.



Our last stop was WalMart. I had previously been banned by Jean from buying bows for two reasons: I had a ton of them at home and I bought three bags of bows at 8 cents a bag at WalMart when I went shopping there with Terry. Jean finally relented a little and let me buy some teeny bows and this giant bow. We were home by about 5:30.....long successful trip!



January 5, 2004



Oh what a trip! Jean, Daphne and I went to Bourbonaise, Illinois for the 90% off sale at Target! What a blast. We got tons of Christmas stuff and I found the perfect Christmas stockings for only $1.20 each. Let me just put it this way: Jean bought eight Christmas trees! We also got a lot of bargains at Walmart and grabbed a quick lunch there. Daphne was a perfect little shopper....absolutely no problem at all. Sigh, I wish you all could have been there!







Cinqo De Mayo, 2005
Merrillville WalMart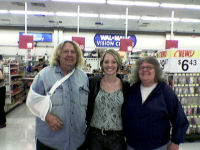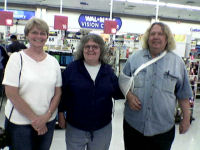 Terry, Renae, Kathy.....Laney, Kathy, Terry