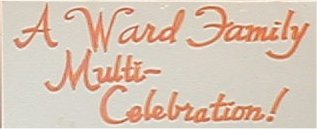 September 2002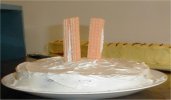 The Cakes: Jeff's yard stick, Jimmy's calculator, Becky's Memorial
and Kathy and Terry's Anniversary. And chocolate tools.






Kathy built the podium, Jean welcomed everyone and introduced Laura who
introduced the opening act: Alex and Hannah who sang the Months Song.






Becky took the podium and gave a rousing tribute to Jimmy, who just
earned his CPA. Jimmy then opened his gifts. Jeff introduced
Alex and Hannah again who sang Days of the Week.






Kathy had the honor of presenting the Birthday Girl Becky who then opened her gifts.
Please note that Jean wrote all the speeches and no one saw or heard them until it was time.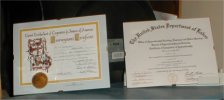 Terry gave a terrific speech that congratulated Jeff for attaining Journeyman status as a Carpenter. Jeff opened his gifts and then Jimmy introduced Alex and Hannah for their
final act: the singing of Alex's school song, Lincoln Eagles.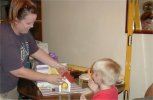 Jean presented Kathy and Terry with an antique (yet fully functional) Hot Dog House
she was able to track down on Ebay. They were thrilled! Alex and Hannah also got a couple of gifts just for being Alex and Hannah.

Jean returned to the podium, gave a heartfelt speech and held up this sign: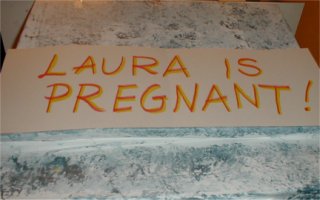 We are all thrilled! Our new grandchild is due March 22, 2003.







After the presentations, Alex and Hannah bonded with their Uncles.
Uncle Jimmy helped Hannah put stickers on herself.

Return to Grandma Kathy's Page Email Grandma Kathy