Route 66

September 4-21, 2019

4,766 Miles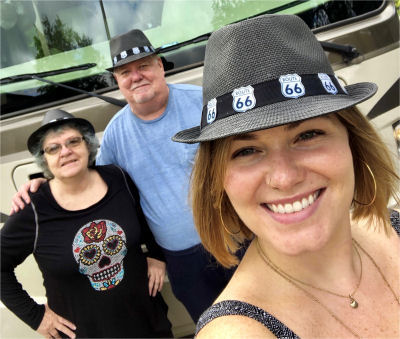 Featuring Kathy, Pat and Alissa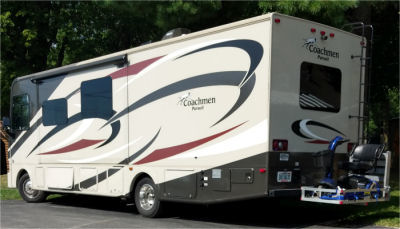 And A 32 Foot Coachman Motorhome

And several appearances by

and

Illinois

Our route on the side of a building in Pontiac, Illinois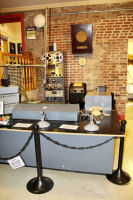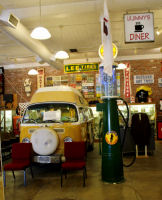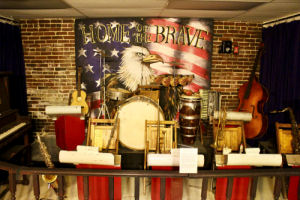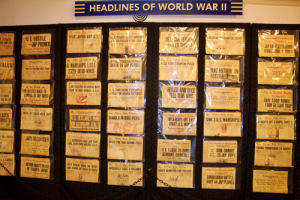 The Route 66 Museum....very nice and fun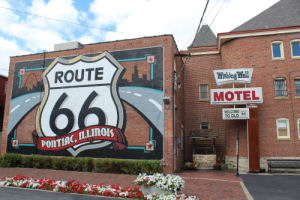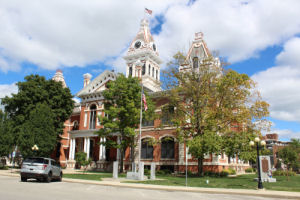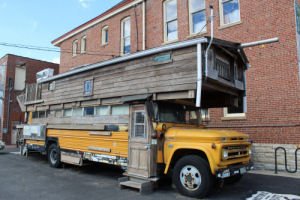 Buildings and a modified bus in Pontiac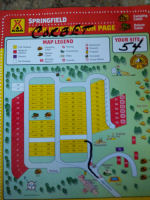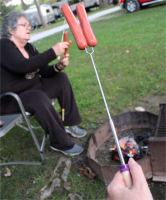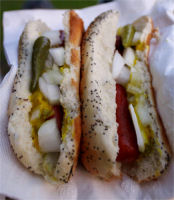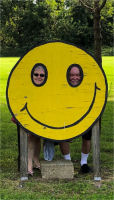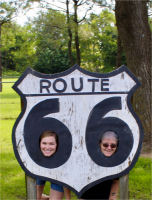 Our first of many stops at KOA. I planned to use pretty fire colorers for our first and last fires
But all our other campsites didn't want us to burn down our Nation so they had fire bans
And I went home with seven bags of easy start charcoal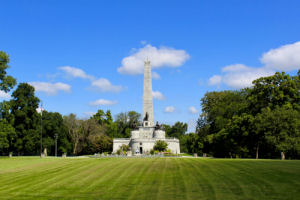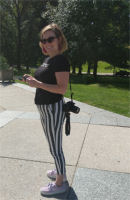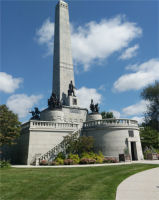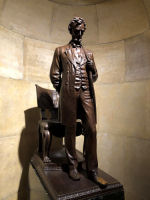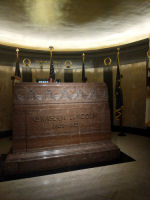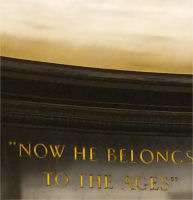 A solemn stop at Abraham Lincoln's Tomb


Missouri


We drove from Springfield, Illinois to Springfield, Missouri where we spent the night at a KOA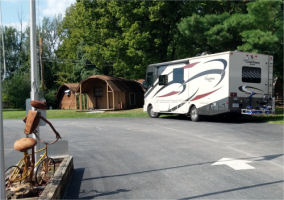 So here's a picture of the motorhome and a giant rusted ant riding a rusted bike


Kansas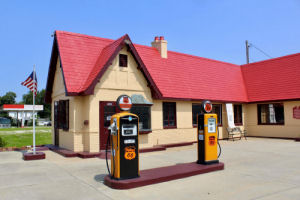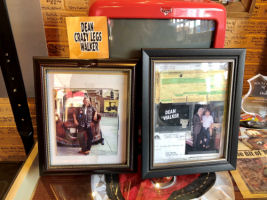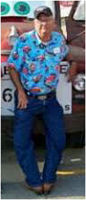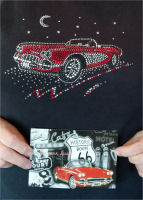 The Kansas Rt. 66 Visitor's Center...I have my hand in my pocket because it is fashionable
We met Dean Crazy Legs Walker and he was quite entertaining! We really liked him....and his crazy legs
A postcard that matches the car on my shirt


Oklahoma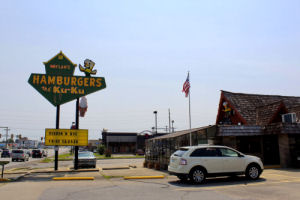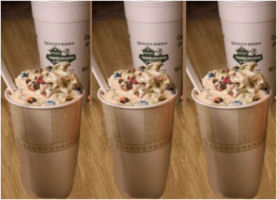 For my 50th Anniversary, we had great shakes at Waylan's Ku kus

The Shake Incident
I accidentally ordered three instead of two shakes (Alissa had a small sundae)
We had a freezer in the motorhome so I didn't really care
But a customer said she would buy the extra one and gave me four dollars for it
I guess I should have given her change because it cost me $3.25
But I was too surprised by the weirdness of the situation


Texas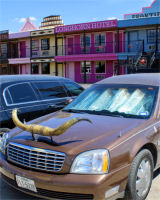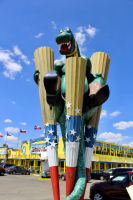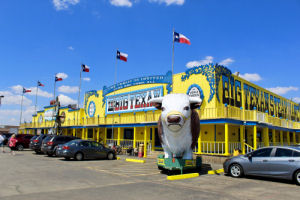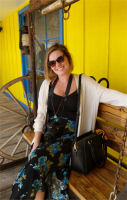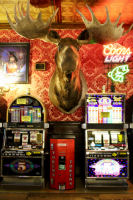 Why yes, we are in Texas....What a great meal we had here....Seriously, the girls had prime rib and Pat had sirloin....Excellent!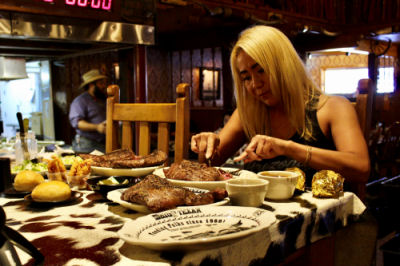 Then we watched competitive eater Miki Sudo eat!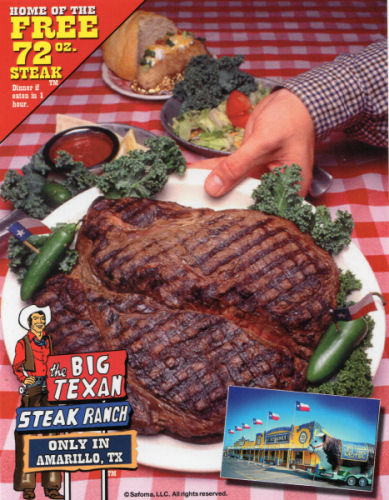 The normal challenge is a 72 oz. sirloin, baked potato, a couple of shrimp and a salad
We actually saw two guys who couldn't quite win the challenge
Miki signed up to do two servings of everything in one hour
Alissa took pictures and chatted a little with Miki during the contest
Alas, it actually took her 63 minutes instead of 60....but it was quite fun to meet her!
At first, we had no idea Miki was a competitive eater....it seemed crazy to do a double challenge
People were welcomed to come up and talk to her but not too much as she had a lot to eat in so little time
She told one person that she was moving across country and doing competitions along the way!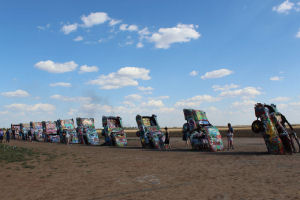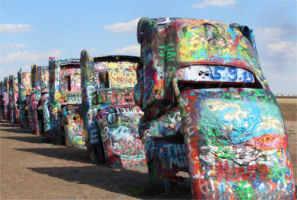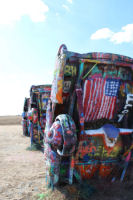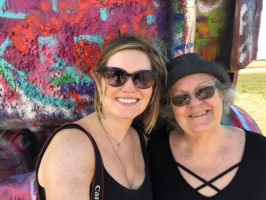 The Cadillac Ranch is where ten Cadillacs were buried in 1974....Visitors spray paint the cars over and over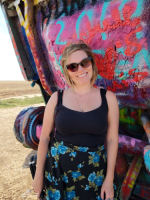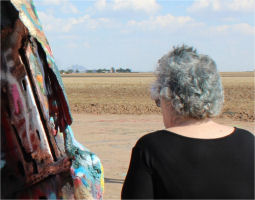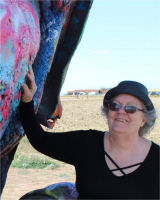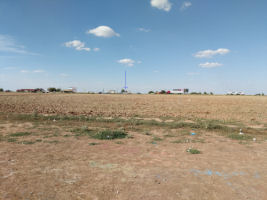 Alissa....I still have blue hair (Pat asked me to cover my gray so I did)....I put some google eyes on some of the cars....I crack myself up
The arrow points to the motorhome....We walked so far I counted it as a workout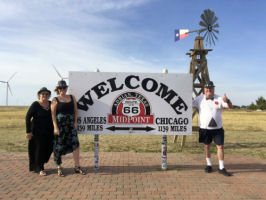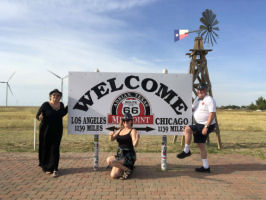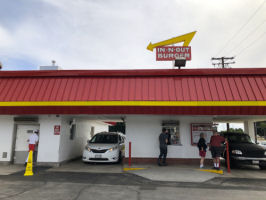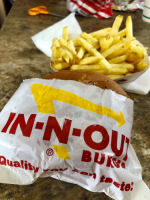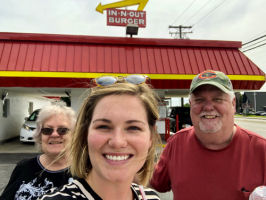 Route 66 Midpoint....Somewhere along the way we ate here and really liked it


New Mexico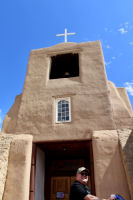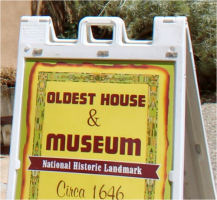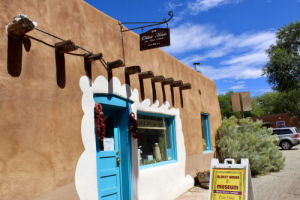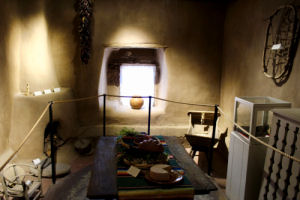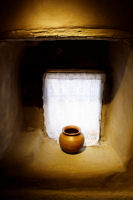 Pat in front of San Miguel Chapel....the oldest known church in the continental USA, built between 1610-1626
The oldest house and museum....It was here Alissa and I learned we have the same Confirmation name: Cecilia
So, our names are Kathleen Rita Cecilia Corbet Ward and Alissa Rita Cecilia Corbet....I think it explains why we are both so fashion forward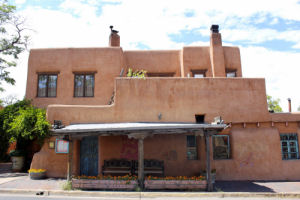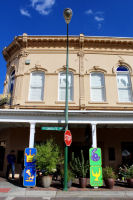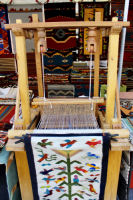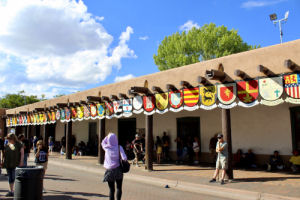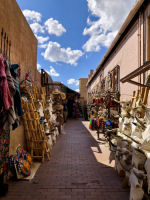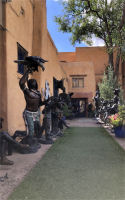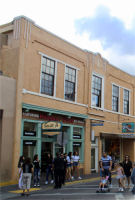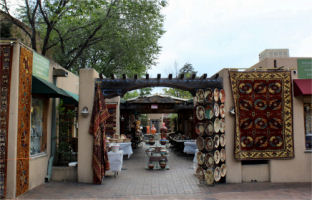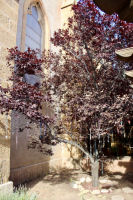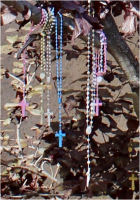 Interesting and colorful Santa Fe....A rosary tree!....A rosary is catholic prayer beads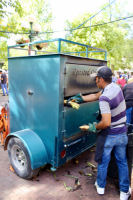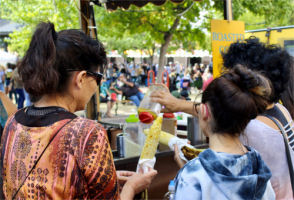 There was a festival going on....It was called Fiestas de Santa Fe which celebrates Spain's reconquest of New Mexico
What fun! We had lunch here and had a blast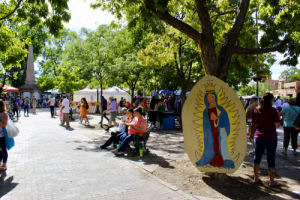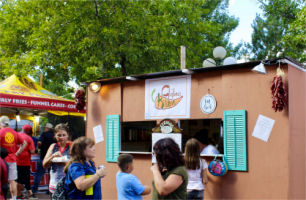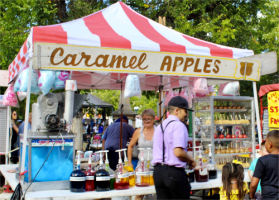 Great music, delicious food, fun craft booths, and a just a lot of happy people!


Arizona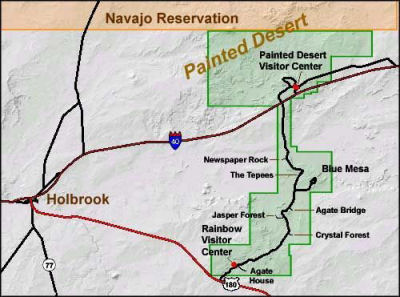 An amazing 28 mile drive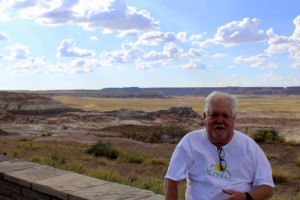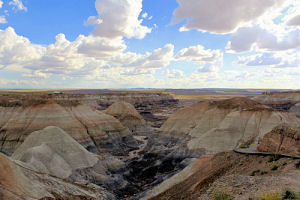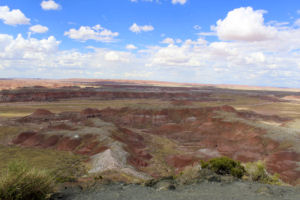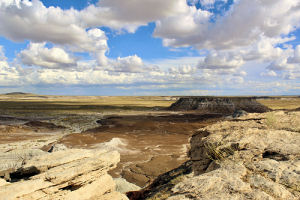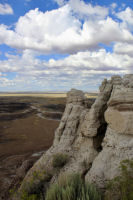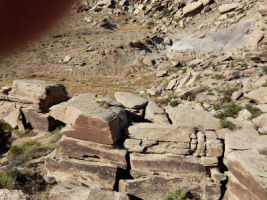 Gasp.....So beautiful....It's The Painted Desert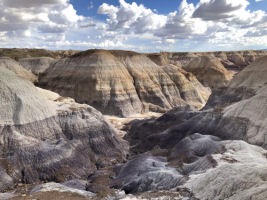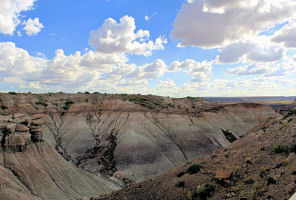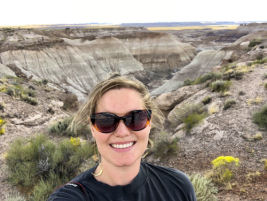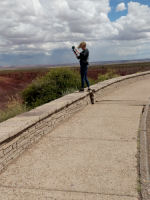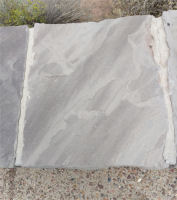 Alissa taking beautiful pictures of the blue mesa....The last picture shows she is only a few feet above the ground if she fell forward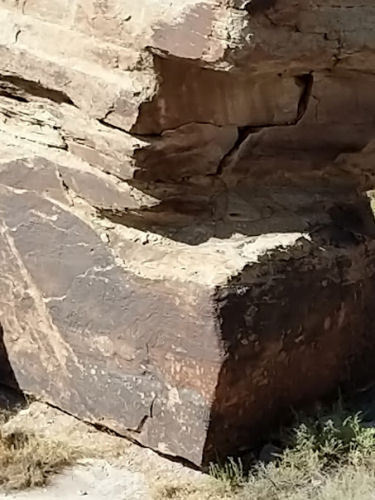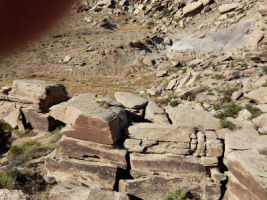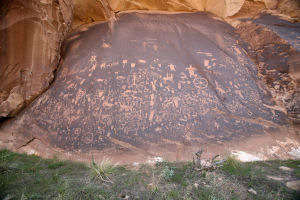 The first carvings at the Newspaper Rock site were made around 2,000 years ago, left by people from the Archaic, Anasazi,
Fremont, Navajo, Anglo, and Pueblo cultures. In Navajo, the rock is called "Tse' Hone'" which translates to a rock that tells a story.
The third picture (from the internet) shows the actual carvings.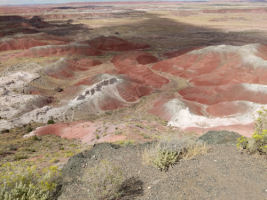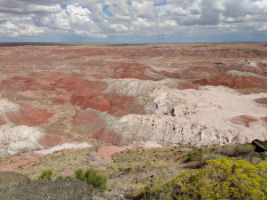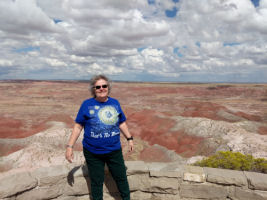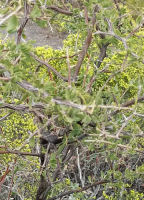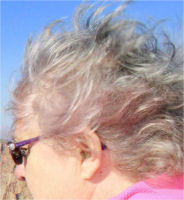 My hair is now blue, yellow, orange and pink for no reason....Alissa and I laugh at it
We've camped at

six times so far and stopped at

four times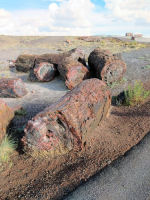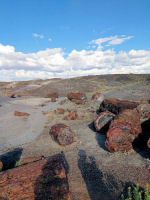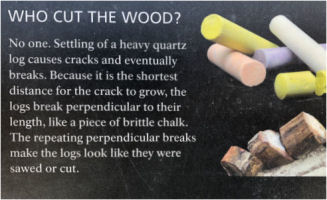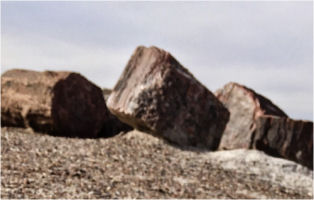 The Petrified Forest was great....Although for some reason I expected it to look like a forest....Lol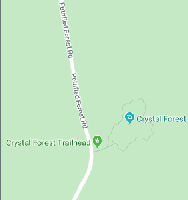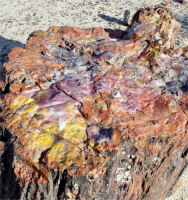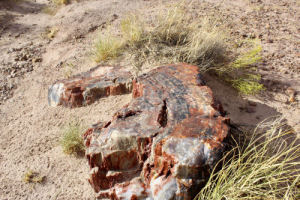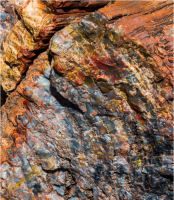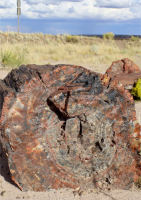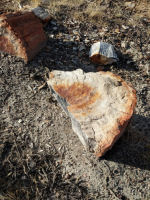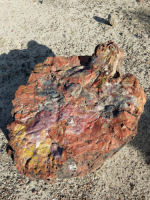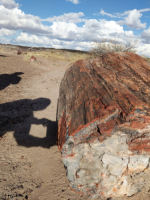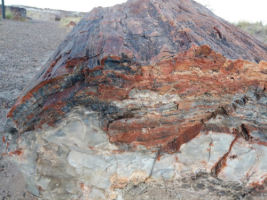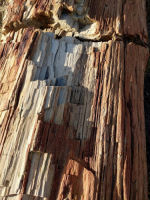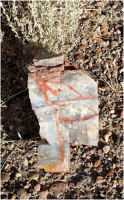 Alissa and I took The Crystal Trail (anywhere from .8 to .9 miles....though it felt like more to me)....Beautiful, windy and fun trail....The last picture is a little present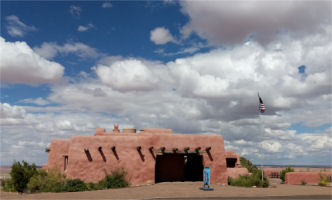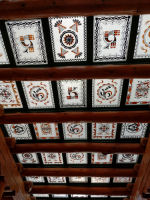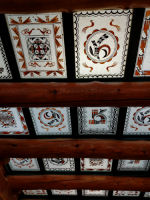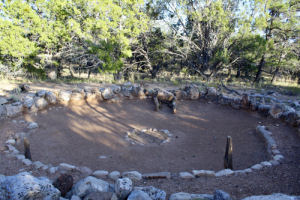 The Painted Desert Inn....Beautiful ceilings....A fire ring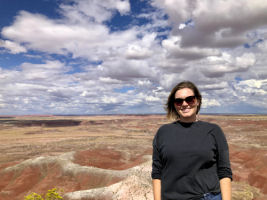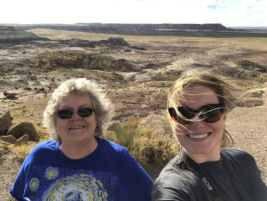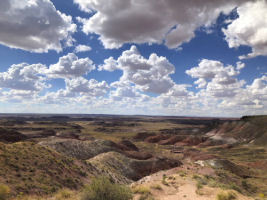 More beauty....And the scenery is pretty too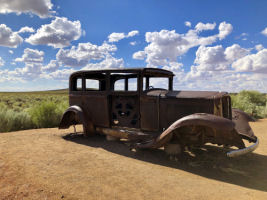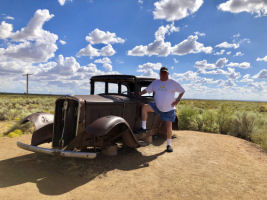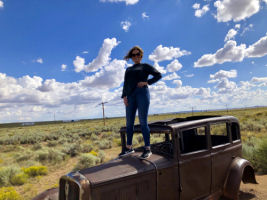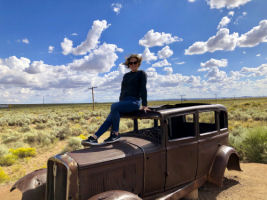 Posing near and on a '32 Studebaker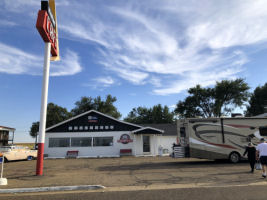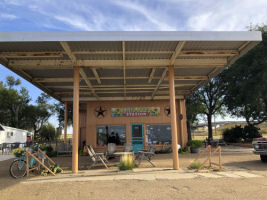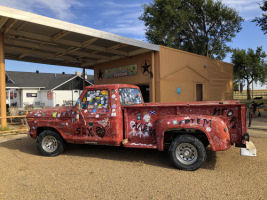 Example of cool stuff along Route 66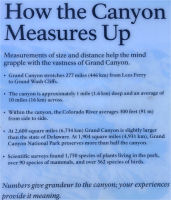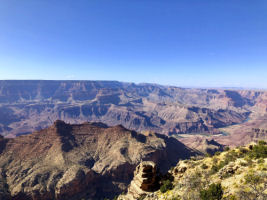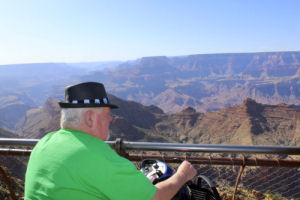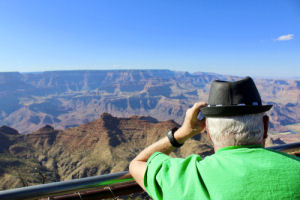 Our first view of the Grand Canyon was at a stop on a 25 mile driving trail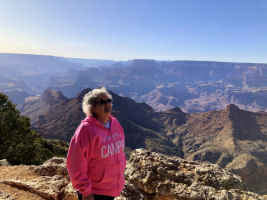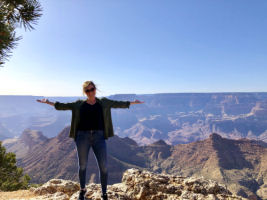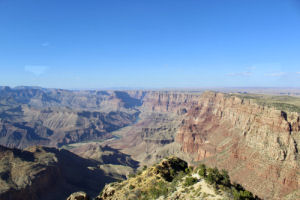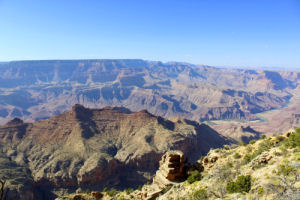 It is magnificent and we all loved it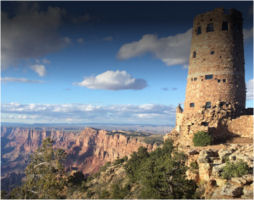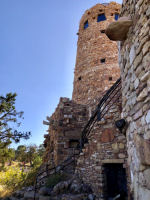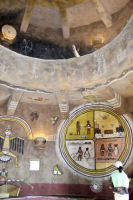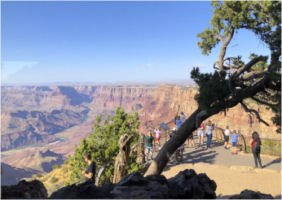 The Desert View Watchtower has a magnificent view (According to Alissa)....View of the little peninsula over the canyon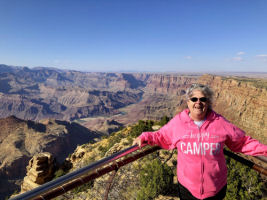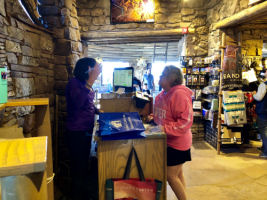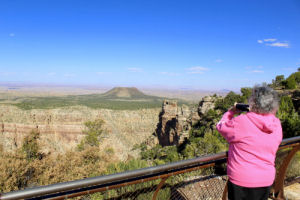 Kathy laughing with joy....Buying stuff....And taking a picture of a rock table she named "Kathy" and later found out it's really Cedar Butte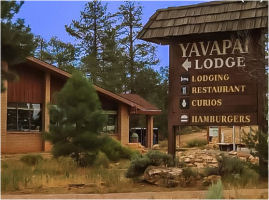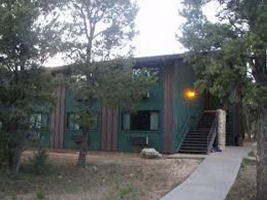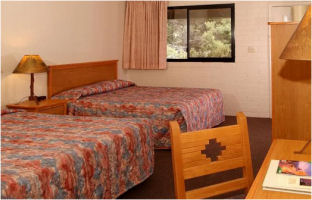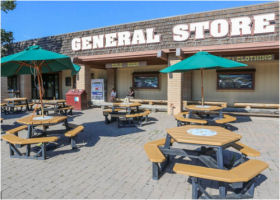 We stayed at the Yavapai Lodge.....Alissa and I shared a room and Pat opted to stay in the Motorhome in the Lodge parking lot
Pat was visited by a security guard but he managed to schmooze him away....And the guard told the rest of the security guards to leave him alone...And they did!
The General Store was amazing....Tons of souvenirs and plenty of food for us to buy for dinner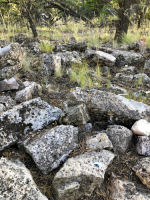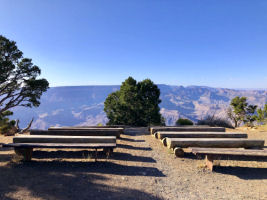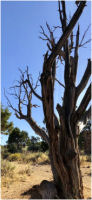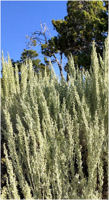 Our next mode of viewing The Grand Canyon was walking from the Lodge to the South Rim
We saw nice stuff along the way....We also saw a moose....it wasn't too close but I more or less ran away from it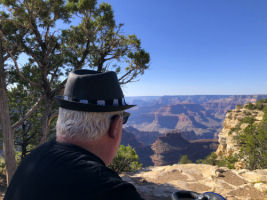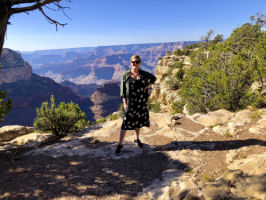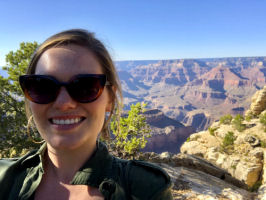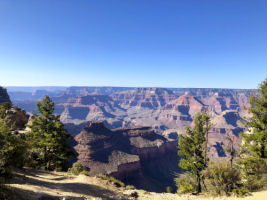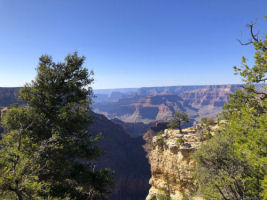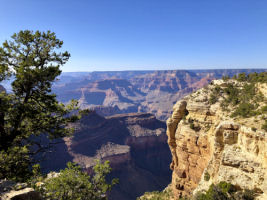 Yep, still amazing


Nevada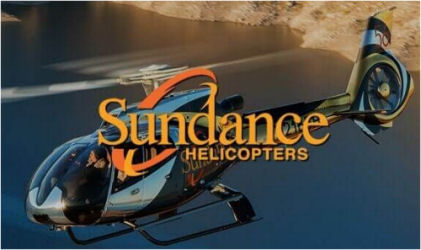 Click here or on the helicopter to open this wonderful website

It turns out our favorite way to see The Grand Canyon is by helicopter
Our cousin, Trisha Smurlo, is the mother-in-law of Mark Thomas who is a pilot for Sundance
This was Pat and Alissa's first helicopter ride and they both really, really enjoyed it....As did I
Sundance also has other tours (day or night)....Some are shorter and centered in Las Vegas
This needs to go on your Bucket List....No matter what your age is
I almost hate to show you the pictures we took because seeing them live was quite a treat
But they really don't do justice to the wonderful tour so here goes: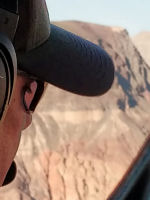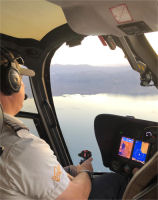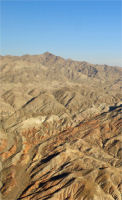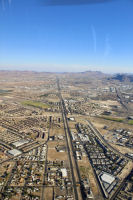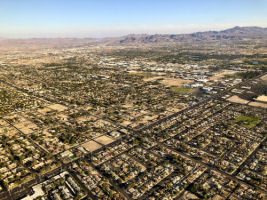 Our pilot Mark, not our relative Mark Thomas who was out of town, checking out the scenery...We actually called him "The Other Mark"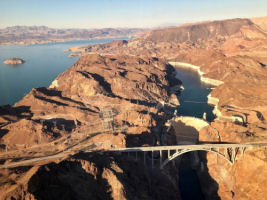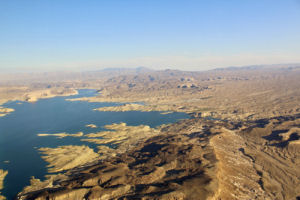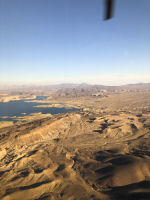 Hoover Dam and Lake Mead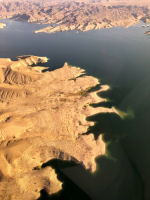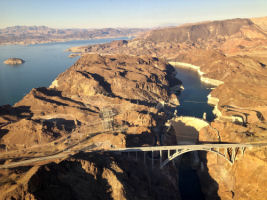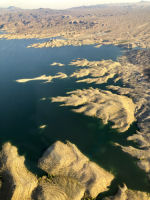 Lake Mead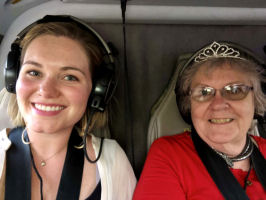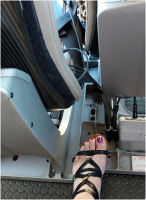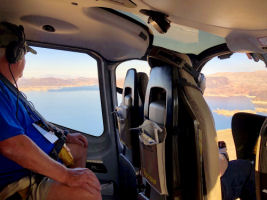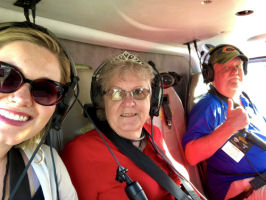 Of course I wore my tiara and one of my snake necklaces....Riding with first-timers Alissa and Pat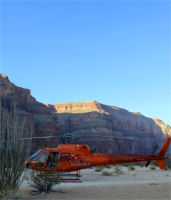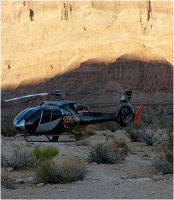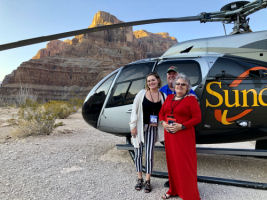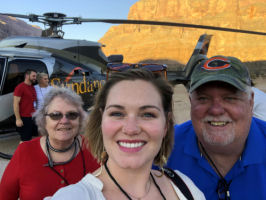 Why yes, we did indeed land at the bottom of The Grand Canyon!
A couple of Sundance helicopters....In the last picture you can see the nice couple who traveled with us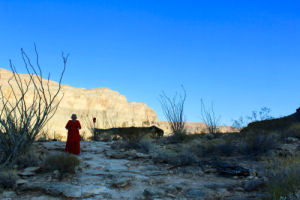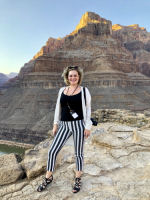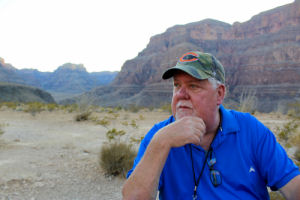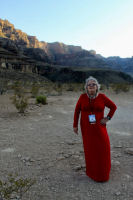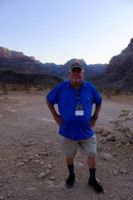 The path to the Colorado River....Alissa with the river behind her....Just having a great time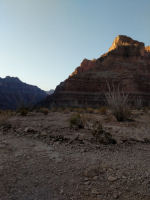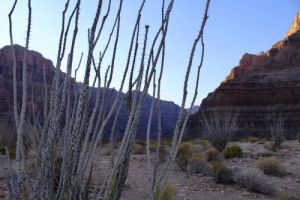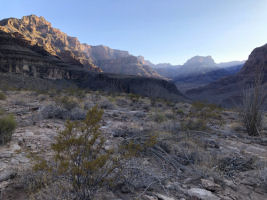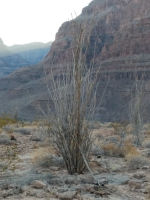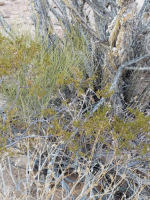 Lots of stuff to check out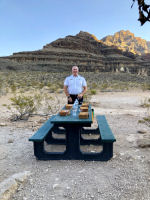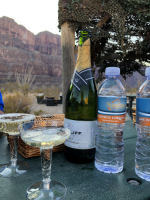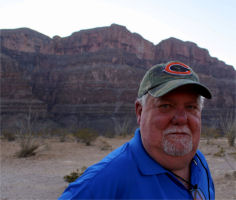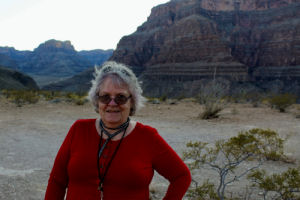 Captain Mark served us champagne, water and a wicker basket of snacks....And we smiled once again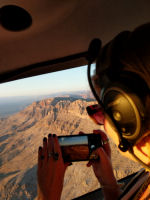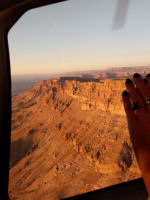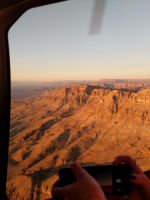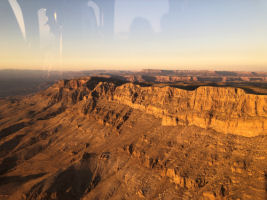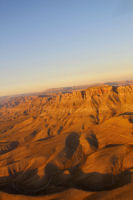 Alissa takes some pictures as we leave the canyon....The last picture has a bat shadow at the bottom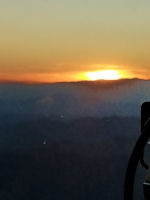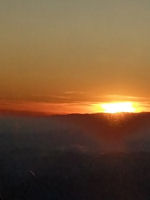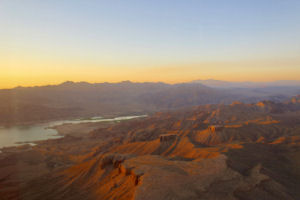 We rode straight into the sunset....Breathtaking!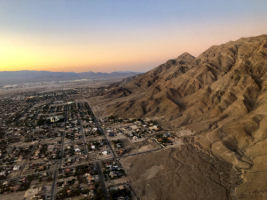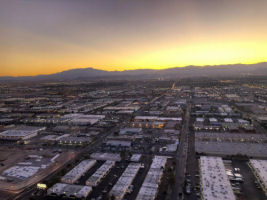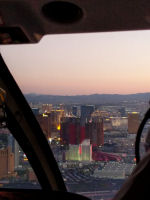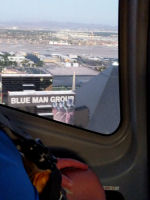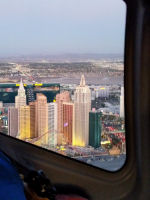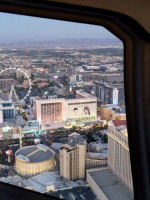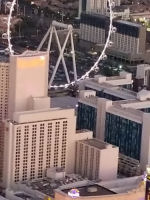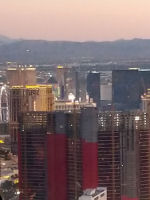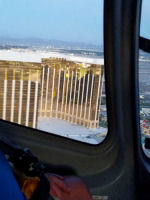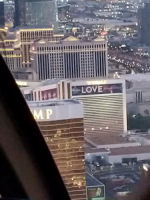 Checking out the Strip during the day and evening....This Helicopter Tour From Sundance was one of the highlights of our Adventure!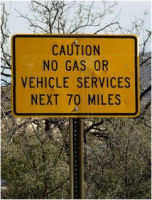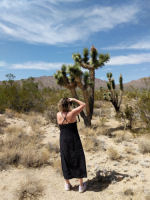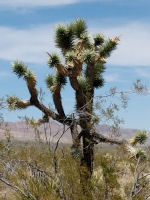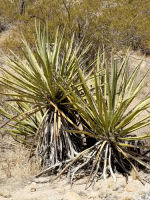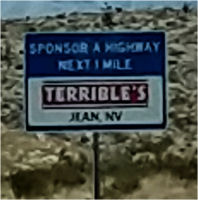 On September 14th, Alissa drove for eight hours....We really did drive 70 miles with no services....We stopped and took pictures once in a while....There is a Jean, Nevada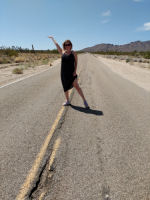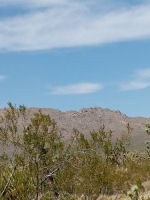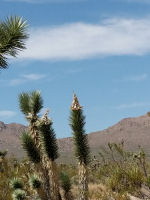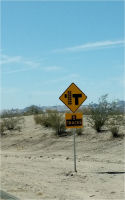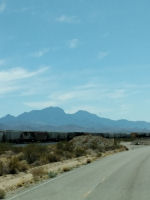 It was a long, sorta boring ride but we made the most of it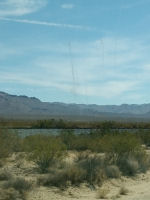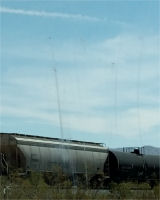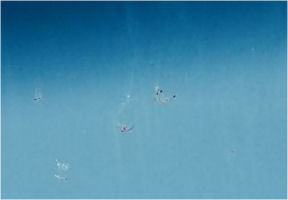 I noticed debris falling from an alien space craft! Very exciting!
I finally figured out it was all on the windshield.
Of all the things I've lost, I miss my mind the most
And I had a little trouble with my power strip because I plugged it into itself
We really did have a lot of laughs on this trip


California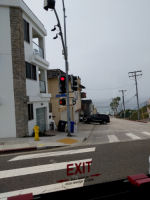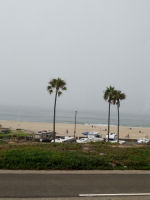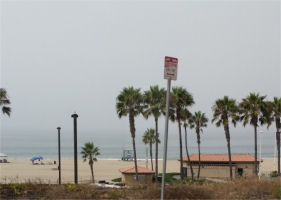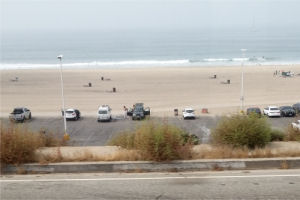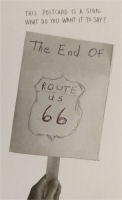 Glimpses of the Pacific Ocean....Didn't get a picture of the end of Route 66 so I used one of Jean's postcards to designate it
We stayed at the Golden RV Resort in Long Beach, CA....One of five nights we didn't spend at a

.


Nevada Again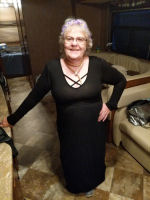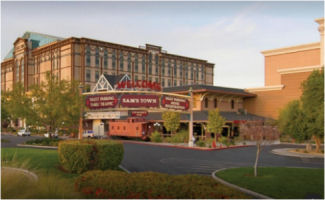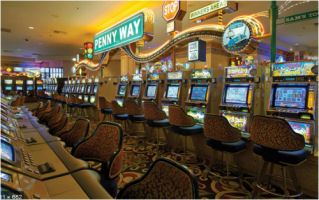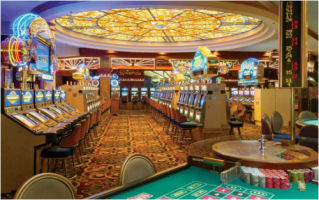 Back in Las Vegas on our way home, Pat and I decided to gamble a little
I got all gussied up in my purple head flowers and gold snake necklace (note the inside of the motorhome)
The casino was connected to our RV park so we got a ride there and back on a golf cart
There was one slot machine that featured buffalo and when they stampeded, my seat vibrated
Despite the vibrating seat, friendly people and convenience, Pat and I vowed never to gamble again....Just like the last time we gambled together


Utah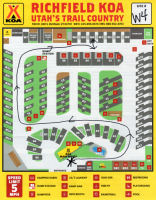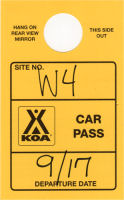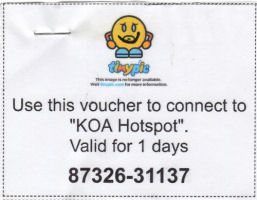 We more or less zipped through Utah....Here is where we spent the night....With our car pass and wifi password


Colorado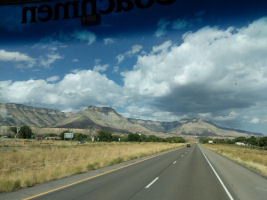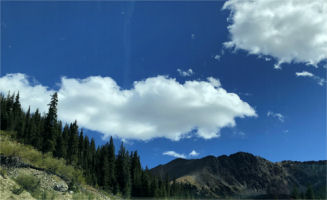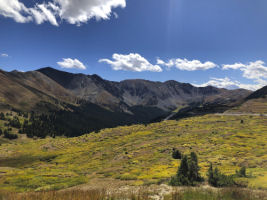 Driving to a campground Alissa picked out....It became our favorite campsite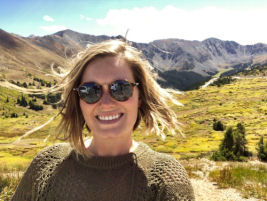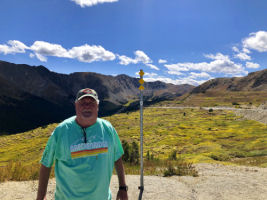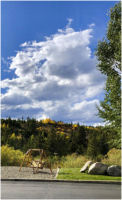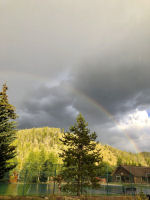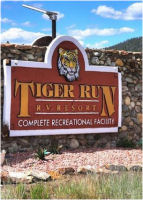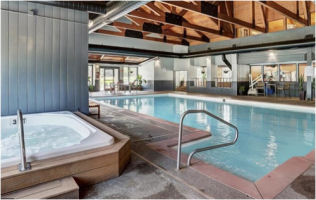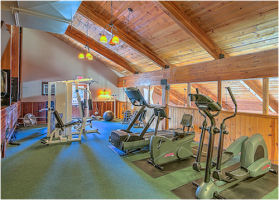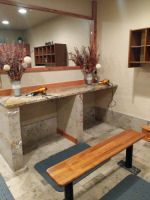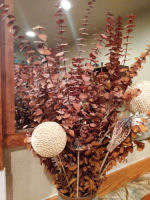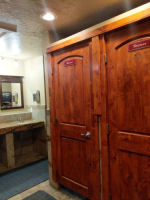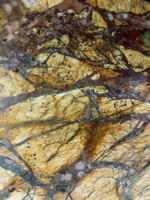 Oh yeah....We stayed here three nights....That picture Alissa took of the rainbow sums up our visit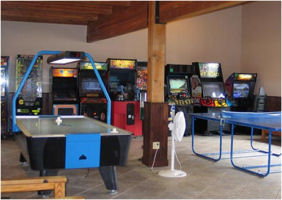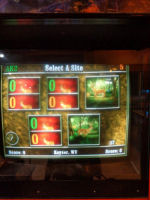 Alissa and I hung out in the game room while our laundry was drying
We played this shooting game here
We had to shoot letters of the alphabet to enter our names
Alissa is "AK2" and I'm "5"
Our scores were zero but Alissa did shoot three doe
I don't think the guns were calibrated right
We did laugh a lot
And our laundry got dry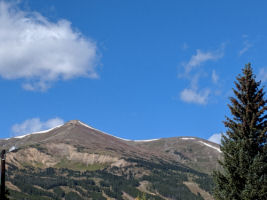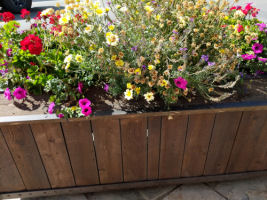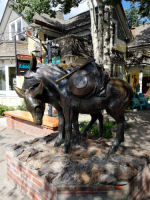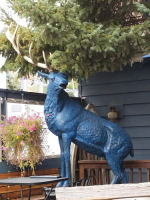 Downtown Breckenridge is lovely with nice shopping....In the first picture, Pat said it looks like the clouds fell on to the mountain
We had a great lunch at the Blue Stag with good food and a friendly waiter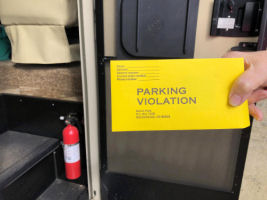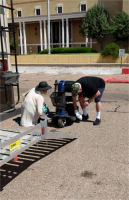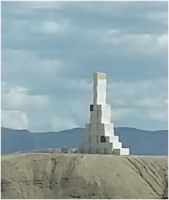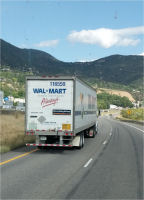 We got a parking ticket in Breckenridge for parking in a non RV parking lot....I saw signs in another parking lot but not the one we parked in....sigh
Cleaning Arizona dust from the scooter....Art....Follow that truck!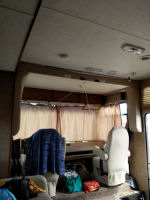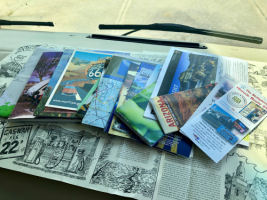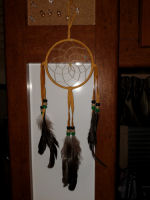 Spent a lot of time in here....We ate all our breakfasts and dinners at the campsites and had lunch in restaurants


Nebraska, Iowa and Illinois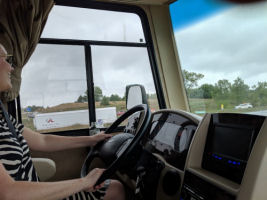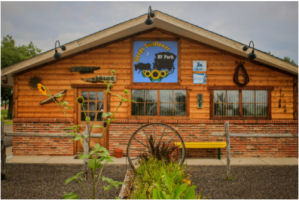 We really booked it at the end to get home....We stayed in Nebraska for the night and got home on Saturday, September 21st
Pat and Alissa were excellent drivers....I'm really glad they didn't need my driving help....And Pat got a full refund of his deposit
All in all: What a ride!

Email Kathy

Return to Kathy's Home Page