St. Patrick's Celebrations

March 16, 2003



Jean and Jeff...






Another year at the Southside Irish Parade! Jen and Jean, Megan and Jen, Jean and Jeff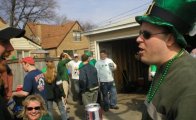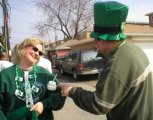 We didn't see much of the parade, but we found a party. Tom and Jeff debate whose "old lady" is worse, and of course, Tom talks emotionally about his dogs. "That F***ing dog is a sweetheart!"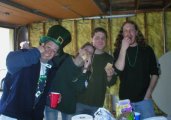 Walking to Paul's house. Back at Paul's house: Mrs. Cotter and eating





Jen was up to no good as usual. Seen here, she's fleeing the scene of the crime...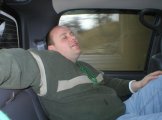 Tony Soporano is resting his eyes on the way home, and Carmella
proudly displays her Irish heritage one more time...until next year.


Eileen, Becky, Bill, Alex and Hannah...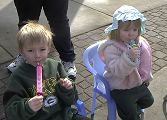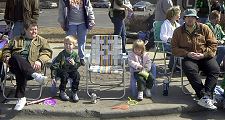 Alex and Hannah enjoy the lollipops Eileen got them.
We set up camp three hours before the parade started.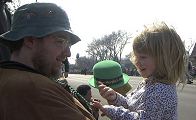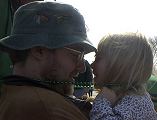 A local store has a sale...Bill and Hannah enjoy a special moment.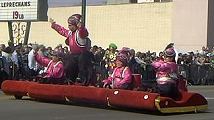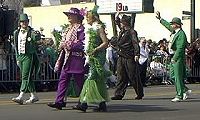 The parade had many neat floats...St. Patrick leads the snakes out by the hand.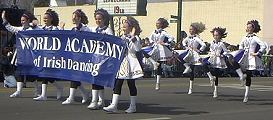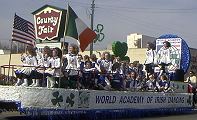 There were lots of Irish Dancers and cute kids.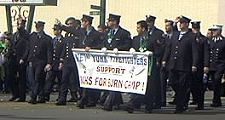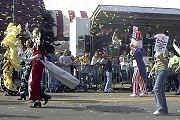 We honored New York Firefighters.
Confetti made the day extra festive.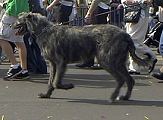 Three Irish Mobsters and three dogs.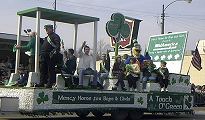 There were lots of neat floats.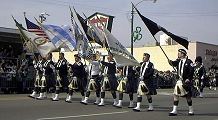 An unenthused girl, lots of bagpipes and St. Patrick again.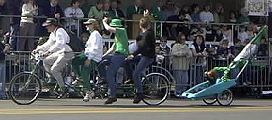 Lots of dogs....five people on a bike.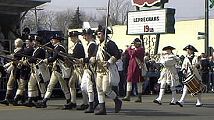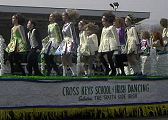 More neat parade stuff and St. Patrick on roller blades.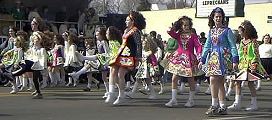 Dancers in pretty dresses and a sleepy Pippy.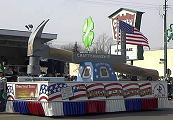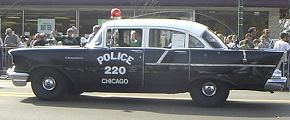 The Carpenters Union float (the hammer moved), an old Police Car and a woman in a giant foam hat.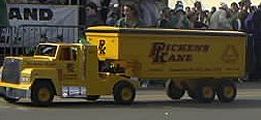 Hannah fades, a float breaks down and a giant man freaks us out.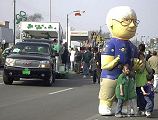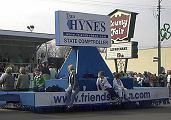 More of the float breakdown, Hannah takes a nap, Alex hams it up and we saw the Hynes float.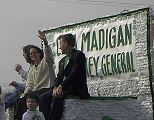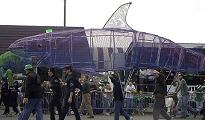 Lisa Madigan, the Exelon float, and Shedd Aquarium sends a land shark.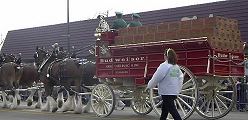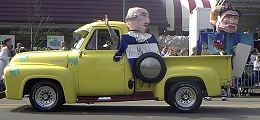 The Budweiser Clydesdales, a big, giant shopping cart and the strangest float in the parade.
A Special Thanks to Eileen for planning such a great day!



Back Home in Indiana...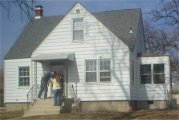 Terry and I picked up some chicken and headed to Laura and Jimmy's. Laura and
Jimmy swept the front porch and then Jimmy had to put on Laura's shoes for her.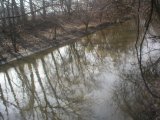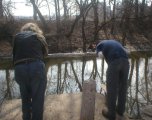 We went for a walk along the river and saw some lingering snow on the ground...and it was very warm out.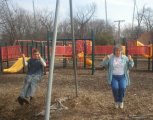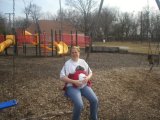 We stopped at the playground and then watched a kite.




On the way home, Terry turned on the air-conditioning in the car for the first time this year.



Email Kathy
Email Jean and Jeff
Email Becky
Email Laura
Return to Kathy's Home Page