Tobogganing

The Lahms

Potawatomi Inn in Pokagon State Park

February, 2012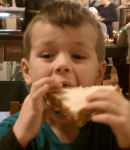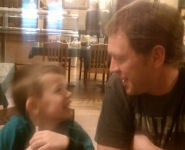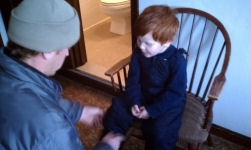 Brendan eating a sandwich he created himself (note the candy in it)....Jeff with Brendan and Owen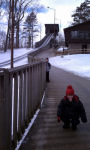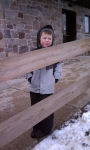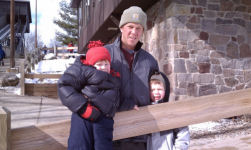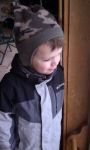 Before the big rides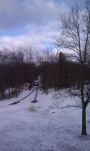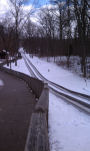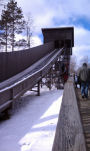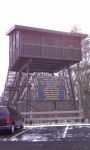 There are two refrigerated runs that are 1/4 mile long. The speed is about 30-40 miles per hour.
Each ride lasts 20 to 30 seconds.
The Lahms went down several times and Owen and Brendan each took the front position at different times.

Palos Heights

Swallow Hill

Ridden many times by many Corbets in their childhood.

It's deserted now but here are some memories of our childhood freezing terror: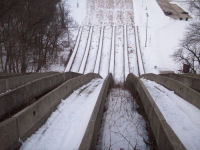 Article written by Robin Baumgarten from the WGN Morning News January, 2018

ANYONE ELSE MISS THE TOBOGGAN SLIDES?



Before there was Great America, there were the concrete chutes in the Cook County forest preserves. This one was my family's favorite - Swallow Cliff in Palos. Marcus Leshock mentioned some wooden slide built in Minneapolis this week that was 40 feet tall. BIG DEAL. This one nicknamed "Terror Hill" was 100 feet tall, had 125 steps to the top, hit 60 mph on the way down, and slid a distance of 1,100 feet to the bottom.

Sadly, this one was dismantled in 2004, and the rest soon followed. They say it was because the cost of upkeep was too steep, but I wonder if it might have been because at least one out of every three kids that slid down, scraped their faces, arms, or legs along the sides of the concrete walls.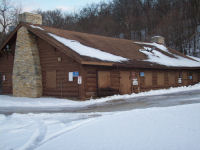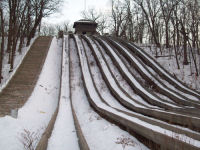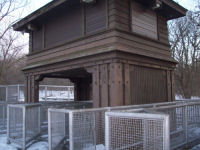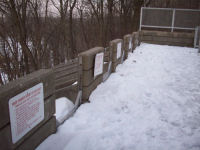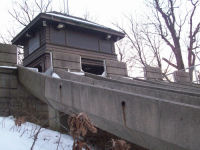 Email Kathy
Return to Kathy's Page